Estimated reading time: 3 minutes
Nothing says "Happy Holidays" quite like the heavenly aromas of ginger, cloves and cinnamon wafting from the oven. Besides, what's wrong with a little indulgence during the most festive month of the year— especially when the recipe includes chlorella?
Yes, that's the beauty of this amazing green superfood: You can include chlorella in all of your holiday baking recipes without even knowing it's there (it's about as stealth as Santa when he climbs down the chimney at midnight, *wink wink*).
Getting your greens in during the holidays is especially important …with consecutive late nights, holiday events, family time, and having your energy levels run in overdrive. The holidays can also be slightly stressful, which is when your body needs vitamins, minerals and antioxidants the most. And that's where chlorella comes in.
Rich in antioxidants such as beta-carotene, immune boosting nucleic acids, and the only plant form of active B12, chlorella is one of the easiest ways to keep yourself feeling amazing during the holidays (and all year round). We dare you to try it in your other holiday recipes, too!
Most gingerbread cookie recipes call for eggs, milk and butter, but we've made this recipe vegan by substituting cashew milk and vegan butter (such as Earth Balance®, which you can find at your local health food store).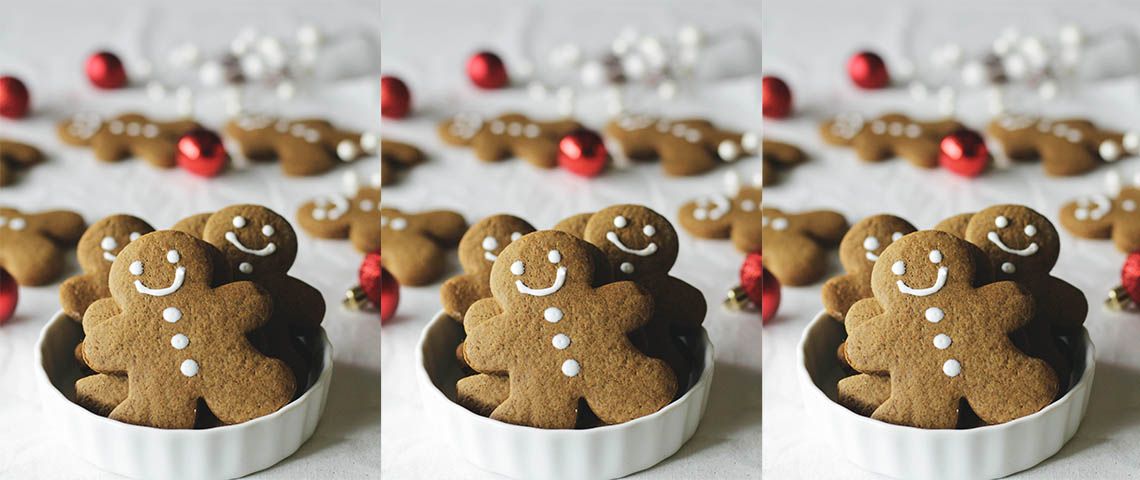 Recipe Notes
This recipe calls for 3g (1 tsp) of Sun Chlorella Powder. You can purchase Sun Chlorella Powder in individual 6 g packets, or a 30-day supply.

We made this recipe with all purpose flour, but if you'd like to have a gluten-free option, feel free to use a gluten-free flour instead— just be warned that it might alter the texture.
Yield: Roughly 24 medium sized cookies
Special Equipment Required
Electric mixer

Rolling pin

Gingerbread men cookie cutters

Sifter
Ingredient
3 cups unbleached all-purpose flour (or gluten-free flour if using) 

3-6g (1-2 tsp) Sun Chlorella Powder 

1 tsp baking powder 

1 tsp baking soda 

2.5 tsp ground ginger 

2 tsp cinnamon 

1/4 tsp ground cloves 

1/4 tsp salt 

1/2 cup vegan butter 

1/2 cup molasses 

1/2 cup brown sugar 

4 Tbsp cashew milk  

2 tsp vanilla extract 

Frosting or decorations as desired
Instructions
1. In a medium sized bowl, sift together the flour, Sun Chlorella Powder, baking powder, baking soda, ground ginger, cinnamon, ground cloves, salt, then set aside.  
2. Using an electric mixer, cream the butter and brown sugar together until fluffy. Add molasses, vanilla and cashew milk, and mix until combined. 
3. Slowly mix in the wet ingredients into the dry ingredients a third of the batter at a time until a solid dough forms. 
4. Separate the dough into three balls, wrap them individually and chill in the freezer for 45 minutes. 
5. Preheat the oven to 350 degrees F.
6. Once chilled, roll the dough to about 1/3 inch – 1/4 inch thickness. Cut the dough using gingerbread men cookie cutters. 
7. Bake for 12-15 minutes or until the edges become golden brown. 
8. Let cool for 10 minutes and decorate as desired. 
9. Enjoy!
Happy holidays from your friends at Sun Chlorella USA!
Author: Brandi Black, RHN