Prep time: 30 minutes
Bake time: 10-11 minutes 
Total servings: 10-12 cookies


Chocolate Cookie Sandwiches Ingredients:  
¼ cup (57 grams) vegan butter 
½ cup+ 2 Tablespoons (75 grams) powdered sugar 
1 flax egg (1 Tablespoon ground flax mixed with 3 Tablespoons water, left to sit for 5 minutes) 
1 tsp (5 grams) vanilla bean paste 
1 cup (125 grams) all-purpose flour 
3 Tablespoons (21 grams) cocoa powder 
Chlorella Frosting Ingredients: 
½ cup (113 grams) vegan butter 
1 cup (120 grams) powdered sugar 


Instructions: 
Preheat the oven to 350F and make the flax egg. 

First, make the chocolate cookies. Add the vegan butter, powdered sugar, and cream until fluffy. Then, add in the flax egg and vanilla and mix. 

Add all-purpose flour, cocoa powder, and salt. Then, mix into a thick chocolate cookie dough. If the dough is too sticky, add it to the fridge to chill and firm up for 10-15 minutes.  

Roll the dough between 2 pieces of parchment paper until about ½" thick. Please ensure not to roll the dough out too thin, or it will be hard to cut out shapes. 

Next, use a cookie cutter to cut out an even amount of top and bottom cookies (about 20-24 total). Each time you cut out cookies, form the scraps into a ball and roll them out again until no dough is left. 

Add the cookies to a lightly greased baking sheet or a baking sheet covered in parchment paper and bake for 10-11 minutes until the cookies are cooked.  

Remove from the oven and cool on the baking tray for another 5 minutes. Then, move to a cookie cooling rack to cool to room temperature. 

While the cookies are cooling, make the chlorella frosting. 

Add the vegan butter to a large mixing bowl and whip until fluffy. Then, add in the Sun Chlorella Powder and mix until smooth.  

Once the Sun Chlorella Powder has been mixed in, add the powdered sugar and whip together until you have a fluffy green frosting. 

Add the frosting to a piping bag and pipe until ½ of the chocolate cookies. Then, add another chocolate cookie on top to sandwich together. Enjoy!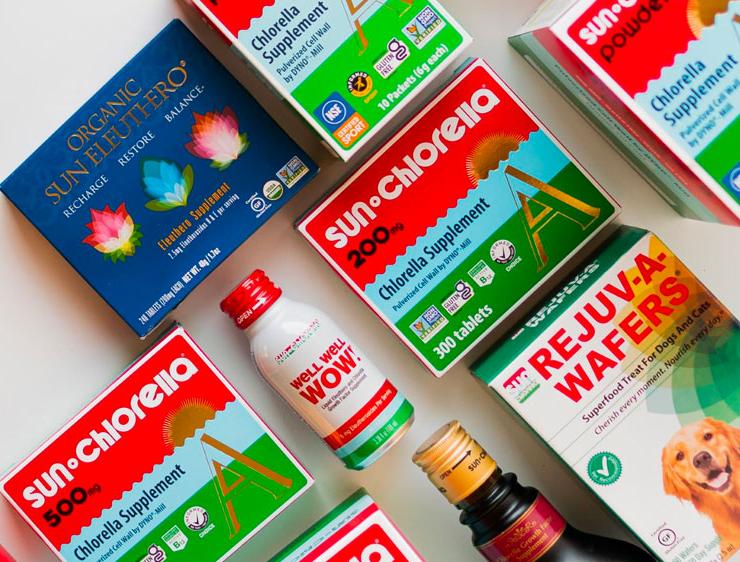 Ready to Find Your Chlorella?
---
Find your best chlorella that fits your lifestyle. Sun Chlorella offers easy-to-take small tablets, larger tablets, and powder form.

---