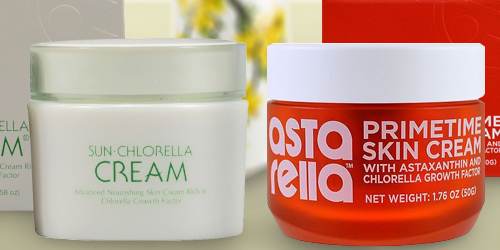 Chlorella and Astaxanthin Cream
Natural products that nourish
Sun Chlorella offers a Chlorella Cream and a Chlorella plus Astaxanthin Cream. Both are designed to give you nourishment for healthier-looking skin. Order your skin cream today!
Skin Care
Innovation that Nourishes Naturally
Sun Chlorella's natural skin cream moisturizes your skin with the powerful nourishment of chlorella. It is the only natural skincare cream made with Chlorella Growth Factor (CGF). We knew Chlorella Growth Factor's ability to help the body renew itself would make the perfect ingredient in a natural skincare product. It's one of the richest sources of nucleic acids.



"What a difference.
I've had skin problems for years. I was just covering it instead of thinking about nourishing."




Your skin does a lot for you...let's return the favor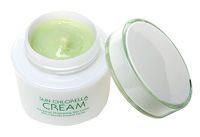 Sun Chlorella Cream
1 Jar
1.58 oz/45 g
$75.00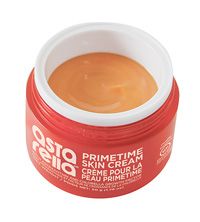 Astarella Primetime Skin Cream
1 Jar
1.76 oz/50 g
$85.00






Your skin is the largest organ of the body that provides a protective barrier against the elements including infection, and is your largest sensation mechanism. It also has a critical function of insulation and temperature regulation. As such, your skin is important for your overall health beyond just looking good. Wellness is about feeling good and staying healthy — keeping you safe from the outside world.
Sun Chlorella skin creams give your skin the nutrition it needs directly from its surface. Your skin works hard to keep toxins out of your body, so it's important that your skincare products do not put toxins right back into your skin. That's why we always choose natural ingredients.
Sun Chlorella Cream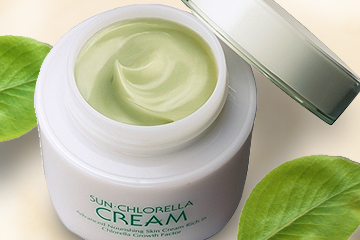 Only Sun Chlorella skin care products are made with Chlorella Growth Factor (CGF). We've created a unique blend of skin supporting nutrients with this amazing extract to improve the appearance of your skin naturally.
• Provides powerful antioxidants found in Sun Chlorella Cream's clove flower extract
• Helps support cellular growth and repair with CGF, a source of highly beneficial nucleic acids found within the nucleus of the Chlorella cell.
• Nourishes the skin naturally with grapefruit seed extract and
Artemesia capillaris
• Offers peace of mind as a cream free of parabens and propylene glycol
Astarella® Primetime Skin Cream
Astarella® Primetime Skin Cream is natural skin cream to combine antioxidant-rich, astaxanthin and Chlorella Growth Factor (CGF), two skin supportive nutrients that boost moisture and encourage a youthful-looking, dewy and smooth complexion. Astaxanthin is an antioxidant sourced from marine micro algae, known for being one of the richest available sources of vitamins E and C. Both of these antioxidant vitamins are needed by the skin to help protect against environmental toxins that we're exposed to each day, that may contribute to fine lines and wrinkles.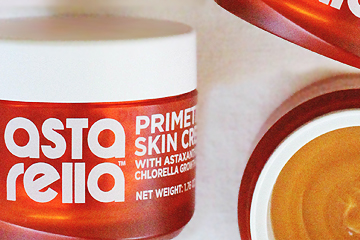 CGF is a unique nutrient that can only be found in the amazing single-celled green algae, chlorella. CGF contains an abundance of skin enhancing ingredients in its nutrient profile, such as amino acids and nucleic acids. Both of these nutrients are needed for a healthy looking glow.
• Improve skin suppleness with Jojoba oil
• Hydrates the skin with unrefined shea butter
• Locks in natural moisture using Meadowfoam seed oil
Sun Chlorella avoids the use of chemicals, artificial colors, artificial fragrances and parabens, which allows Astarella® Primetime Skin Cream to offer your skin nourishing skin care formula possible.