Estimated reading time: 3 minutes
If you love Mexican food but are trying your best to stick to a plant based diet, you know the struggle is real when it comes to finding a healthy vegan or vegetarian Mexican recipe. However, that doesn't mean you'll never be able to whip up an ooey gooey cheesy quesadilla again. We've found a way to make vegan or vegetarian quesadillas insanely healthy and delicious using the amazing green superfood chlorella, plus a few simple ingredients that you can find at your local health food store. 
Unlike your traditional quesadillas that contain common allergens such as dairy, corn and wheat, this quesadilla recipe is made with whole grain brown rice tortillas (which are gluten free) and a vegan substitute for mozzarella cheese— which is typically made from a base of cashews, almonds or macadamia nuts. There are no shortage of easy vegan mozzarella cheese recipes online that you can make at home, but to save time you can also purchase a variety of vegan cheeses at your local health food store (we recommend using mozzarella style, or something similar). 
To give this quesadilla recipe an authentic flavor, we've included black beans, roma tomatoes, red onion and fresh guacamole (which is where the chlorella powder comes in). We recommend serving these quesadillas with salsa on the side, but feel free to also use your favorite hot sauce for dipping. If you don't follow a strict vegetarian diet, you could add diced organic chicken to the vegetable skillet. 
This vegetarian quesadilla recipe is quick and easy, which makes it perfect for cooking a healthy weeknight dinner. The healthy fats from the avocado and fiber from the black beans and brown rice tortillas are guaranteed to keep your appetite satisfied, while the chlorella and veggies provide a wide variety of antioxidants, healing compounds, and essential vitamins and minerals. All in all, these quesadillas are a healthy plant-based dish your whole family will enjoy.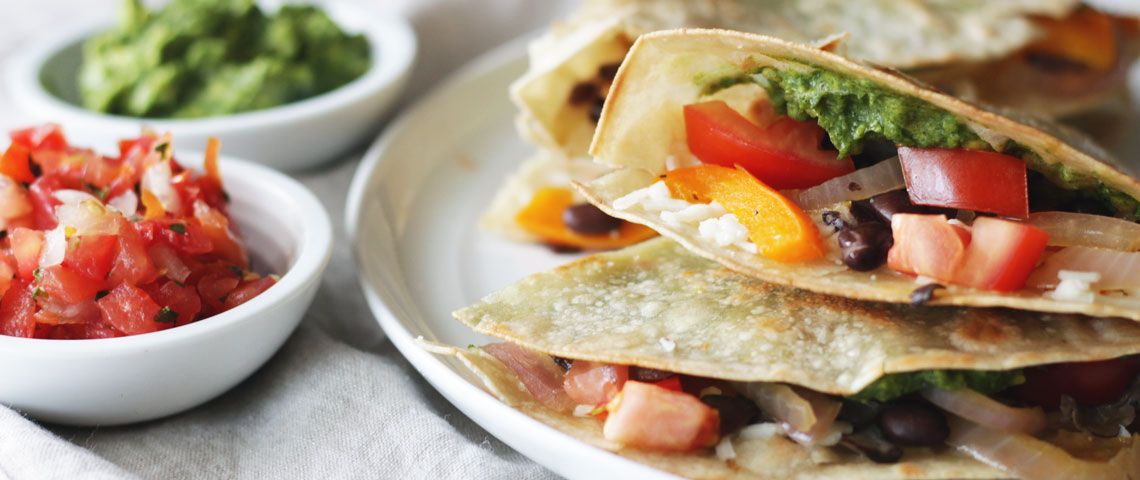 Ingredients
1 large avocado

1 tsp (3g) Sun Chlorella Powder

1 tsp lime juice

1 Tbsp avocado oil

1/2 sliced bell pepper

1/2 sliced purple onion

7 sliced Cremini mushrooms

1 1/2 diced Roma tomatoes

1/3 cup black beans

1 cup vegan Mozzarella style cheese alternative

3 medium brown rice tortillas

Avocado oil, as needed
Directions
In a medium bowl, mash the avocado with a fork until chunky. Add the Sun Chlorella Powder and lime juice, and mash again until incorporated. Set aside.

Heat 1 Tbsp avocado oil in a medium pan over medium heat. Add bell peppers, onion, and mushrooms and sauté lightly for about 2 minutes. Add the tomatoes and black beans and cook for an additional minute. Transfer to another bowl and set aside.

Lightly coat the same medium pan with avocado oil and add one brown rice tortilla. Cook for a few minutes until you see golden spots and flip.

Spread a third of the avocado spread onto one half of the tortilla. Sprinkle a third of the vegan cheese alternative on the other half. Add a third of the grilled veggies on top of the cheese side, and cook for an additional minute. Fold the avocado side over the veggies side, and transfer to a plate. Repeat with 2 more tortillas.

Cut in half, serve with salsa, and enjoy!
        Author: Brandi Black, RHN

READY TO MAKE THESE QUESADILLAS FOR YOURSELF?