To our valued customers, in accordance with LA County Safer At Home order, Sun Chlorella USA will temporarily close down our business operations until at least 04/19/20. Please know that our online store is closed; however, Sun Chlorella products are still available at the following retailers: Thrive Market, Amazon, Vitamin Shoppe, IHerb, All-Star Health, Erewhon, Fresh Thyme, Mother's Market, Sprouts, and select Wholefoods. We understand this may be a frustrating time, so we will have a team to answer any questions you may have starting Monday, 03/23/20. You can reach them by calling 1-800-829-2828 ext 2455 or via email at custome[email protected] We hope for the health and safety of you all.
No-Bake Chlorella Cocoa Almond Butter Cups
Have a few of these healthy No-Bake Chlorella Cocoa Almond Butter Cups to kick chocolate cravings to the curb.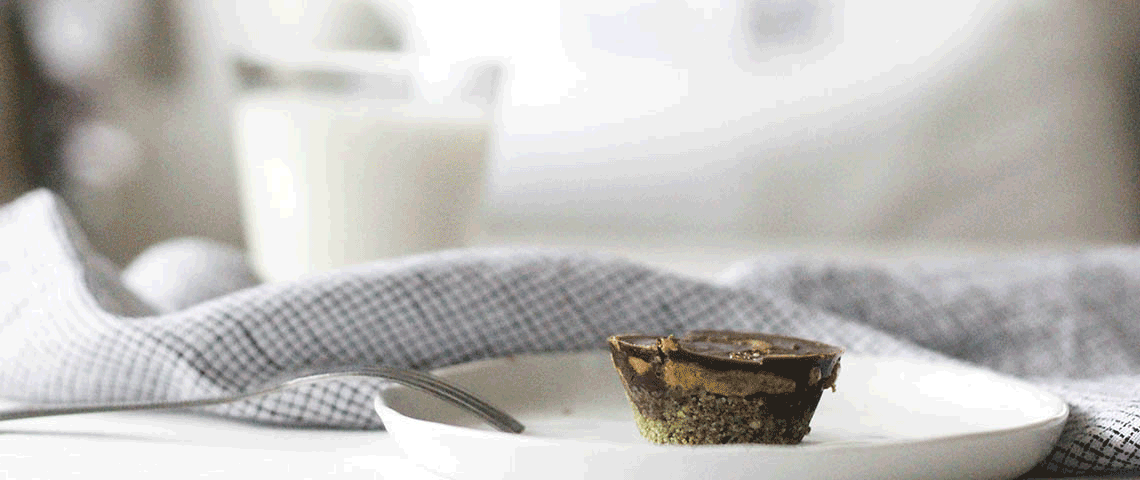 I'm sure most of us have experienced chocolate cravings when stressed. Well, it turns out that there may be a logical explanation as to why this happens. Chocolate cravings, though often tricky to decipher due to the possibility of an underlying emotional component, can be a signifying stress overload. It has been noted that stress depletes magnesium and it is probably not a coincidence that pure dark chocolate (or cacao) is high in magnesium.
    So the next time you're having a chocolate craving, reach for these healthy No-Bake Chlorella Cocoa Almond Butter Cups instead of a chocolate bar and your body will thank you. The healthy fats from the coconut oil and almonds, the natural sweetness from the coconut sugar, and the magnesium from the cocoa, may help keep your appetite and sweet tooth in check. Plus, we added nourishing Sun Chlorella® Powder to make sure you've got the nutrients you need to carry you through those tough times. Enjoy!
Yield: 12 mini almond butter cups 
Ingredients:
Special equipment needed: mini muffin tray (silicone works best), which you can find at any grocery store or supermarket that sells baking supplies. 
For the Crust
1/2 cup rolled oats (blended to a flour)

2 Tbsp coconut flour

2 Tbsp coconut sugar

2 1/2 Tbsp melted coconut oil
For the Topping
12 – half tablespoons of smooth almond butter

1/2 Tbsp cocoa powder

2 Tbsp melted coconut oil
Note: This recipe can be made gluten-free with certified gluten-free oats.
Directions:
Melt 2 1/2 Tbsp coconut oil on medium heat in small sauce pan.

Combine crust ingredients in bowl and mix thoroughly. Add the coconut oil and mix until a crumbly dough forms.

Add cocoa powder to another 2 Tbsp coconut oil in saucepan and stir until completely combined.

In a small mini muffin tray, place crust mixture in each spot. Fill 1/2 of the way. Flatten down with the back of a spoon, and add 1/2 Tbsp almond butter and top with a thin layer of the cocoa and coconut oil mixture. The chocolate mixture will be slightly runny.

Freeze for 3-4 hours and store in freezer. Serve frozen and enjoy!
Author: Brandi Black, RHN