To our valued customers, in accordance with LA County Safer At Home order, Sun Chlorella USA will temporarily close down our business operations until at least 04/19/20. Please know that our online store is closed; however, Sun Chlorella products are still available at the following retailers: Thrive Market, Amazon, Vitamin Shoppe, IHerb, All-Star Health, Erewhon, Fresh Thyme, Mother's Market, Sprouts, and select Wholefoods. We understand this may be a frustrating time, so we will have a team to answer any questions you may have starting Monday, 03/23/20. You can reach them by calling 1-800-829-2828 ext 2455 or via email at [email protected] We hope for the health and safety of you all.
Homemade Chlorella Hummus with Sun Dried Tomatoes
By Aiko Jin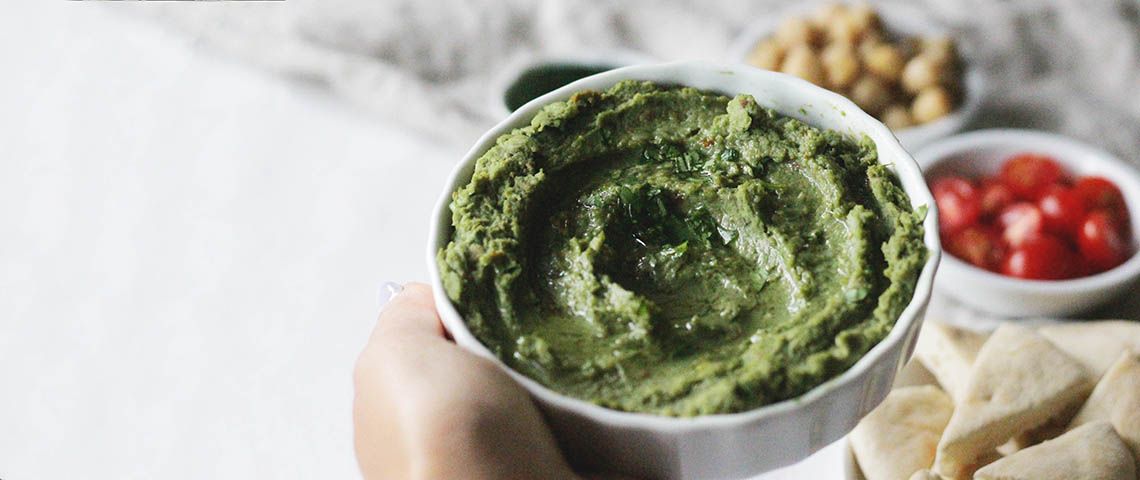 Here at Sun Chlorella USA, we're all for eating snacks made with whole foods that are great for your health and soul. What's our current obsession? –Hummus! Specifically, homemade chlorella hummus that's creamy, nutty, and packed with plant-based goodness.
Why should you eat hummus? Both chlorella and chickpeas are a great source of plant-based protein and fiber—in fact, chlorella's protein-to-weight ratio is superior to that of chicken or beef! This will not only keep you feeling full longer, but might also promote digestive health, making sure your digestive system is happy and healthy. Plus, by adding chlorella to your daily regimen, you're getting even more benefits, such as vitamin B12 (the only plant source!) and all 9 essential amino acids, as well as the rejuvenating power of Chlorella Growth Factor (CGF), which is unique only to chlorella. So go ahead and spread a generous amount over some whole grain pretzels or pita bread, and enjoy with your afternoon tea. Happy snacking!
Recipe by Christine Haine
Ingredients:
2 cans organic garbanzo beans, drained and rinsed

½ cup cut cherry tomatoes

¼ cup tahini sauce

¼ cup olive oil


2 tbsp sun-dried tomatoes

Dash Himalayan salt, white pepper

1-2 tsp Sun Chlorella® Powder

2 tbsp fresh squeezed lemon

Dash of your favorite sweetener

Trim some fresh organic cilantro

Pita chips, for serving
Directions:
Heat the garbanzo beans in sauce pan till tender.

Transfer the beans into a large bowl, mash the garbanzo beans with the tahini sauce, olive oil, himalayan salt, white pepper, Sun Chlorella Powder, lemon, and sweetener until soft and smooth. (you can also use a food processor if you have one)

Let cool for about 20 minutes in the fridge.

Next, stir in the cherry tomatoes, sun-dried tomatoes, and cilantro.

Serve with pita chips or whole grain pretzels and enjoy!
*Note: This hummus has a thicker texture and consistency than store-bought hummus. If a creamier hummus is desired, use a food processor to process the garbanzo beans, adding 1 Tbsp of water at a time until desired consistency is reached.
Author: Aiko Jin