To our valued customers, in accordance with LA County Safer At Home order, Sun Chlorella USA will temporarily close down our business operations until at least 04/19/20. Please know that our online store is closed; however, Sun Chlorella products are still available at the following retailers: Thrive Market, Amazon, Vitamin Shoppe, IHerb, All-Star Health, Erewhon, Fresh Thyme, Mother's Market, Sprouts, and select Wholefoods. We understand this may be a frustrating time, so we will have a team to answer any questions you may have starting Monday, 03/23/20. You can reach them by calling 1-800-829-2828 ext 2455 or via email at [email protected] We hope for the health and safety of you all.
4 Winter Salad Recipes
By Brandi Black, RHN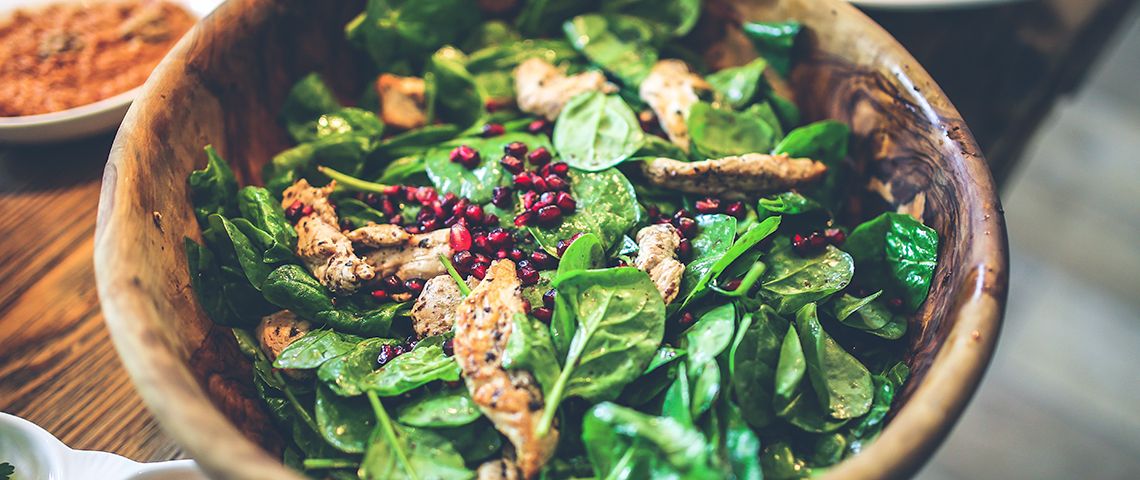 The New Year has arrived, and if you love eating energizing, life-giving foods like we do, you've likely made a resolution to eat more fruit and veggies to aid in natural body detox. But how do you plan to incorporate more of these foods in your diet? Is it with drinking more green smoothies? Eating a salad every day for lunch? Adding an extra side of veggies to each meal? Trying new nutritional supplements and superfoods to assist with natural body detox?

Regardless of how you've intended to eat more nutritious foods, you may find that you're less likely to gravitate towards a bunch of raw vegetables in the colder months, compared to how you would in the warmer months. As the temperatures cool down in the winter, raw, cooling veggies don't seem quite as appetizing first thing in the morning compared to a big bowl of steaming hot oatmeal with cinnamon and apple.  An ice cold raw smoothie sure is nutritious and refreshing on a hot summer day, but can make us even colder in the winter.

Instead, you might find yourself reaching for warming foods. Discover four winter salad recipes that incorporate warming ingredients to help keep you feeling your best during the cold months while still adding extra antioxidant vitamins, minerals and healthy fats to your diet. Then read on to learn about Traditional Chinese Medicine's thoughts of heating, warming, neutral or cooling foods and their effects on the body.
Baked Cinnamon Yams, Chickpea and Quinoa Salad
Ingredients

For the salad:
¾ cup cubed baked cinnamon yams*
¾ cup cooked chickpeas
¾ cup cooked quinoa
handful raw spinach
For the dressing:
1 tbsp olive oil
splash balsamic vinegar
freshly ground black pepper to taste
Method
*To bake yams, preheat oven to 425 degrees F. Thoroughly wash and peel the skin from your yams if they aren't organic. Dice yams and place in a glass baking dish. Coat with extra virgin olive oil and 1 tsp of pure cinnamon. Bake for 25 minutes or until fork tender.
1. Combine sweet potatoes, quinoa and chickpeas in a bowl.
2. Whisk olive oil with balsamic vinegar, adding black pepper last.
3. Place a bed of spinach on separate place and top with the sweet potato, quinoa and chickpea mixture.
4. Top with dressing and enjoy!
Seasoned Warm Mushroom and Spinach Salad
Ingredients

For the salad:

1 cup crimini mushrooms
1 tsp herbs de provence
1 tsp coconut oil, ghee or grassfed butter
2 tbsp organic goat cheese or goat feta
1 diced sweet yellow, red or green pepper
1 cup baby kale
Additional protein options: ½ cup cooked quinoa, grilled wild salmon, chicken or turkey breast

For the dressing:

1 tbsp extra virgin olive oil1 tsp dijon mustard
½ tsp maple syrup
black pepper to taste

Method

1. Melt coconut oil, butter or ghee over medium heat in a skillet. Once melted, add mushrooms and herbs de provence. Allow mushrooms to cook until tender and brown, stirring only a few times to avoid turning watery.
2. If adding extra protein such as quinoa, grilled chicken or wild salmon, begin to prepare those now.
3. While mushrooms are cooking, add remaining ingredients to a bowl and set aside.
4. Add extra protein to salad if using, topping with seasoned mushrooms.
5. Whisk together dijon mustard, honey, pepper and olive oil to make dressing. Drizzle on top of salad and enjoy!
Four Bean and Brown Rice Salad
Ingredients

1 cup cooked chickpeas
1 cup adzuki beans
1 cup kidney beans
1 cup green beans
1 tsp fresh cilantro
1 stalk celery, diced
1/4 cup cooked short or long grain brown rice
1/2 tbsp extra virgin olive oil
pinch pure sea salt
1/4 avocado, cubed

Method

1. Prepare beans by soaking before cooking, or draining and rinsing, if using canned.
2. Prepare brown rice if you don't have it on hand.
3. Chop cilantro, celery and avocado
4. In a large bowl, combine beans, cilantro, celery and avocado
5. Drizzle with olive oil and top with sea salt and black pepper

Kale and Walnut Salad With Cranberry Dressing
Ingredients


2 cups sauteed kale
1 clove garlic
½ cup brown rice or quinoa
¼ cup chopped walnuts
1 tsp coconut oil


For the dressing:
1 cup fresh or frozen cranberries (please use pure cranberries with no sugar added. Dried cranberries cannot be used as a substitute in this recipe)
2 tbsp organic orange juice
2 tbsp cold pressed extra virgin olive oil
1 tbsp red wine vinegar
3 fresh basil leaves
½ shallot, chopped
1 inch ginger
1 cup cold filtered water
pinch celtic sea salt
ground black pepper to taste
Method


1. Prepare brown rice or quinoa if you don't already have it on hand.
2. Place all salad dressing ingredients in blender and blend until smooth. Allow to sit for 10 minutes to thicken. You may also wish to chill the dressing at this time.
3. Melt coconut oil in a medium sized skillet over medium heat.
4. Once melted, saute garlic until golden brown. Add kale, and saute for another 2 minutes or until kale is soft and slightly wilted.
5. Add brown rice or quinoa on top of kale. Top with walnuts and drizzle with cranberry vinaigrette.
Healing Foods, Cooling Foods and How They Can Impact Your Health
Beyond the physical temperature of foods, did you know that Traditional Chinese Medicine believes foods have heating, warming, neutral or cooling properties when entering the body? The effect each food has on the body is irrelevant to whether the food is served warm or cold but is based on the temperature the food leaves the body with once digested. It's suggested to eat foods with temperatures that compliment the seasons for your overall health and wellness. For example, consuming warming foods in the cold winter and cooling foods in the hot summer both help your body achieve balance. Neutral foods can be eaten at any time.

Eating foods with temperatures that align with the seasons can help provide you with more energy and build up your immune system to increase your defense against illness and disease. In fact, eating several foods that have cool or cold properties in the winter will not only make you feel cold, but leave you more prone to illness. On the other hand, eating plenty of cooling foods in the summer will obviously balance your internal temperature and make you feel well.

Eating foods with only warm or hot properties in the summer can also create too much heat in the body, which may lead to health conditions suggested to be triggered by excess heat, such as acne, heat rashes, heat exhaustion or even aggravate a hot temper.

Your body craves balance and strives for equilibrium (or homeostasis), which is why eating a variety of warm and cooling foods is said to be an effective way to improve and maintain your health. Since your body's temperature naturally declines in the winter and warms up in the summer, adjusting your consumption of heating or cooling foods accordingly will help you feel your best.

Now that you've had a basic and general introduction to the healing or cooling properties of food, you may find it interesting to learn that certain ailments in the body can also be caused by too much heat or too little heat. They may be improved by adjusting the foods you are eating based on their temperatures.

Let's use acne as an example. Acne is said to stem from too much heat in the body. If you experience acne and have a diet rich in warming or heating foods, you may be able to help your skin by adding more cooling foods to your diet.While helpful and worth noting, these general guidelines about warming and cooling foods (and their impact on your health) are best discussed more comprehensively and in detail with a qualified holistic healthcare practitioner, Doctor of Chinese Medicine or Naturopathic Doctor prior to making major changes to your diet.
Which Foods are Warming, Neutral and Cooling?
Foods that are considered to have a warming effect on the body include grains such as brown rice, squash, oats, tofu, asparagus, peppers, dates, walnuts, garlic, ginger, pumpkin, chicken, fennel, goat milk, black pepper, cinnamon, chili and sweet peppers.

Foods that have a neutral effect on the body include lemon, sweet potato, carrots, mushrooms, beans, beets, radish and olives.

Cooling foods include many raw vegetables and fruits such as lettuce, spinach, melon, watercress, sprouts, algae, bananas and tomatoes.

Of course, it's still perfectly fine to eat cooling foods in the winter, as your body strives for balance. Chlorella is said to have cooling properties, but is an amazing green superfood rich in the nutrient CGF, or chlorella growth factor- a cellular health promoting nutrient you can benefit from having in your diet all year long. Taking Sun Chlorella in the colder months will provide you with antioxidant vitamins and help with natural body detox. To balance out cooling foods in the winter, you can simply add extra warming foods to your diet.

Author: Brandi Black, RHN