Estimated reading time: 3 minutes
If there's one thing that gets in the way of reaching your health goals, it's unhealthy snacking. When you're on-the-go and trying to keep up with the demands of a busy schedule, it's natural to reach for the first thing you see that provides you with sustenance and a quick energy boost. It's even easier to reach for something greasy or packed with sugar to meet hunger. An easy way to avoid reaching for potato chips, crackers, cookies, or other processed foods that provide no nutrition (and make you feel tired and heavy), is to always keep homemade energy bars on hand, like a muesli (or granola) bar. With its combination of oats, almonds, and rice bubbles, these healthy bars will keep you energized and feeling good.
Nobody wants to spend all day in the kitchen with so much else to do. These homemade chlorella muesli bars require minimal preparation and can be ready in under 30 minutes - the perfect way to spend time in between laundry loads. Prepare a batch from this recipeon a Sunday afternoon, and you'll have enough bars for the week (plus, a few extra to freeze or share).
Unlike store-bought energy bars, these chlorella muesli bars are flavorful and loaded with healthy fats from coconut oil, almond butter, and almonds. The healthy fats in this mixture can help balance your blood sugar levels and keep your appetite satisfied until your next meal (making them perfect for before or after the gym). Best of all, we've added chlorella powder to our recipe, which enhances the bar's nutritional value.* Say goodbye to unhealthy junk foods and hello to your new favorite snack!
If you're not so sure about having algae in your granola bars, trust us on this one: you won't even know it's there thanks to the warm notes of vanilla extract, maple syrup, and light brown sugar. By adding chlorella to your recipes, you receive active B12 (the form of B12 that's best absorbed by the body) and Chlorella Growth Factor (CGF), a nutrient only found in chlorella that helps with cellular repair and regeneration. And when your cells are fueled with proper nutrition, you have more energy for the things in life you love to do the most.*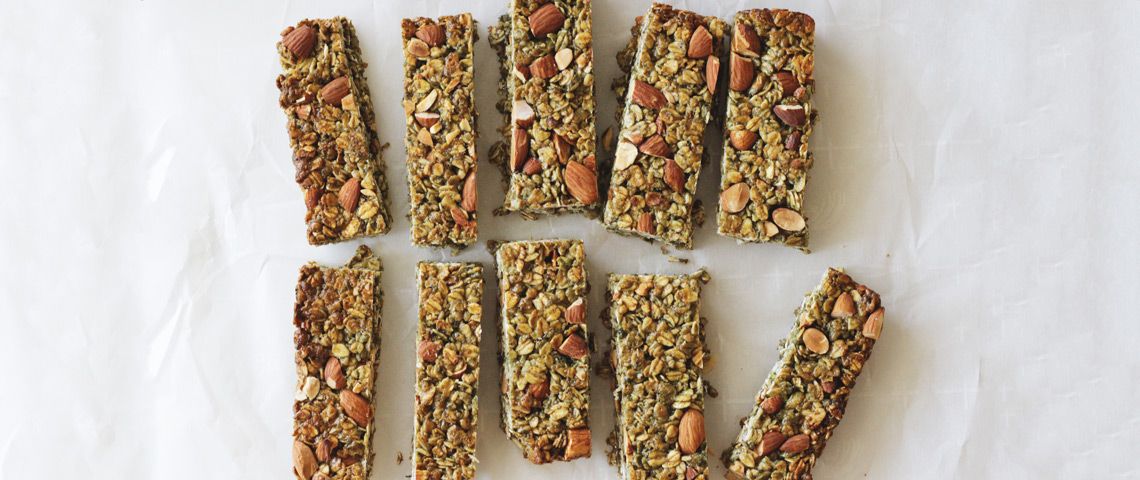 Recipe Notes
Yield: 12 bars
Special Equipment Required 
Baking tin

Parchment paper
Ingredients
3 Tbsp raw unsalted almond butter

2.5 Tbsp coconut oil

3 Tbsp light brown sugar

3.5 Tbsp maple syrup

1.5 tsp vanilla extract

Pinch of salt

1.5-2 tsp Sun Chlorella Powder

1 3/4 cup gluten free certified rolled oat (easily substituted with regular rolled oats if gluten is not an issue)

1 cup rice bubbles

1/2 cup unsalted almonds, roughly chopped (the granularity can be altered to personal preference as you continue to make the recipe)
Instructions
1. Preheat the oven to 350 degrees F and line an 8"x8" baking tin with parchment paper.
2. Place almond butter, coconut oil, light brown sugar, maple syrup, vanilla extract, and salt into a saucepan and stir over medium heat until mixture thickens slightly. This combination will provide the glue that holds everything together. 
3. Add the rolled oats, rice bubbles, Sun Chlorella Powder, and half of the almonds to the almond butter mixture and stir until incorporated.
4. Press the mixture firmly into the 8"x8" baking tin to ensure they hold together. Sprinkle the rest of the almonds on top and press down gently so they stick.
5. Bake for around 15 minutes or until the top and edges are golden brown.
6. Once cooled, peel off the parchment paper, cut into slices, bars, or cookies, and enjoy! Store at room temperature for best results.
To personalize the recipe you can experiment with other mix-ins like seeds or dried fruit, and try other sweeteners like honey or agave. Remember, the more you add, the more 'glue' you will need to hold the bars together and the more space you will need in a pan. Happy baking!


Further reading for vegan health and nutrition:


Vegan Chocolate Chip Cookies With Matcha and Chlorella
Why Every Vegan Needs Vitamin B12
How Can Vegans Get Omega-3?
Author: Brandi Black, RHN