Estimated reading time: 2 minutes
During the winter, we crave warm, heavy comfort foods. But in the summer, it's the opposite—who wants a huge bowl of chowder when it's hot outside? Though I love soup as much as the next person, it's definitely too much for a hot day. But luckily, there's another option: chilled soups!
Want to know how to easily stay cool on a hot day outside? Eat cold, refreshing foods, like fresh veggies and fruit—and this creamy spicy spinach soup! It's loaded with flavor and healthy nutrients and, you guessed it, Sun Chlorella®! Sip on this cold, creamy, spicy, garlicky soup all day long to keep you cool all day long.
If you make it, be sure to tag us on our Instagram, Facebook or Twitter page @SunChlorellaUSA and use #screcipes.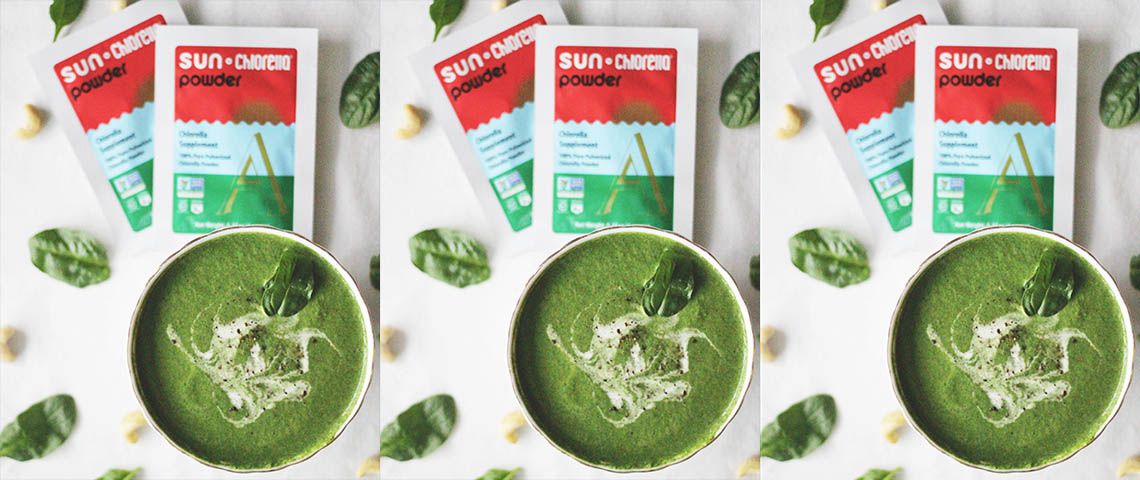 Creamy Spicy Spinach Soup
Ingredients:

8 cups whole leaf organic spinach, roughly chopped

1 whole jalapeno, diced

4 cloves garlic, chopped (tip: use a micro plane and run garlic across, saves time!)

1 whole shallot, chopped

1/4 cup organic cashews soaked (use hot water to soak, for 20 minutes)

2 cups organic vegetable broth (separated)

1Tbspolive oil

1/2 Tbsp Sun Chlorella® Powder

Salt and pepper, to taste
Directions
In a large skillet or cast iron pan, sauté jalapeño, garlic and shallot in the olive oil until fragrant.

Add the spinach to the pan and lightly toss with jalapeño mixture until slightly wilted. (You may have to do this is sections if it will not all fit in the pan at one time) Turn off heat and move on to step 3.

In a high-speed blender, add the drained cashews and 1 cup of the veggie broth. Blend until smooth.

Add the spinach mixture to the cashew mix in the blender along with the remaining cup of veggie broth. Blend until smooth.

Add the Sun Chlorella Powder and salt and pepper to taste. Pulse to blend with the rest of the ingredients.

Chill for 15-20 minutes for a deliciously cold summer soup. Enjoy!
*If the soup is not spicy enough for you, you can always add dried jalapeño powder, cayenne, or chili flakes to your spicy likeness. My jalapeño was not very spicy, so I added a ½ tablespoon of dried hatch chili powder, and it was perfect!
Want to know more about the author? Visit her page: The Wellness Unicorn