Estimated reading time: 3 minute
We want to be modest, but have to ask: Have you ever seen a prettier looking stack of pancakes? 
Not only are these vegan pancakes a feast for the eyes, but they're also packed with vitamins, minerals, and healthy fats. With no refined sugar— but tons of flavor— you don't have to worry about straying from your 2018 health goals with this recipe. Plus they help accommodate common vitamin deficiencies, like B12. 
How to Make Vegan Pancakes From Scratch 
To make vegan pancakes from scratch, we've used whole wheat flour and quinoa flour to form the batter— a combination that creates the perfect fluffy vegan pancake.
Aside from texture, another benefit of cooking with quinoa flour (especially on a vegan diet) is that it provides all nine essential amino acids (chlorella also provides all nine essential amino acids). This means that quinoa and chlorella are one of the few plant foods to form a complete protein— a key health benefit if you're following a vegan diet, since most complete proteins are found in animal products. 
We've made these vegan pancakes even more nutritious and dairy-free by adding coconut milk to the batter, and cooking the pancakes in coconut oil. Coconut is packed with medium chain fatty acids (also known as MCT's), which are a type of healthy fat known for having antibacterial properties and boosting energy levels (1)(2). 
Of course, this recipe wouldn't be complete without the addition of the amazing green superfood, chlorella. Although chlorella is an algae— and may not be one of the first ingredients you think of to add to your pancake batter— it blends so well with the cacao you can't even tell it's there. 
Another great superfood for a vegan diet, chlorella is the only known plant food to contain active B12, which is the form of B12 that your body can absorb. This is one of the reasons chlorella is recommended for fatigue and boosting energy levels naturally. Other plant foods such as spirulina and nutritional yeast contain inactive B12, which isn't absorbed as easily. You can learn more about the different forms of B12 right here.
You can customize the flavor of these vegan chocolate pancakes by adding any toppings you'd like. We used almond butter, maple syrup, vegan chocolate chips and fresh raspberries to make the flavor pop. Or, if you're more of a vanilla and chocolate kind of person, you could try mixing coconut cream with pure vanilla extract. The options are endless. 
Chocolate Vegan Pancake Recipe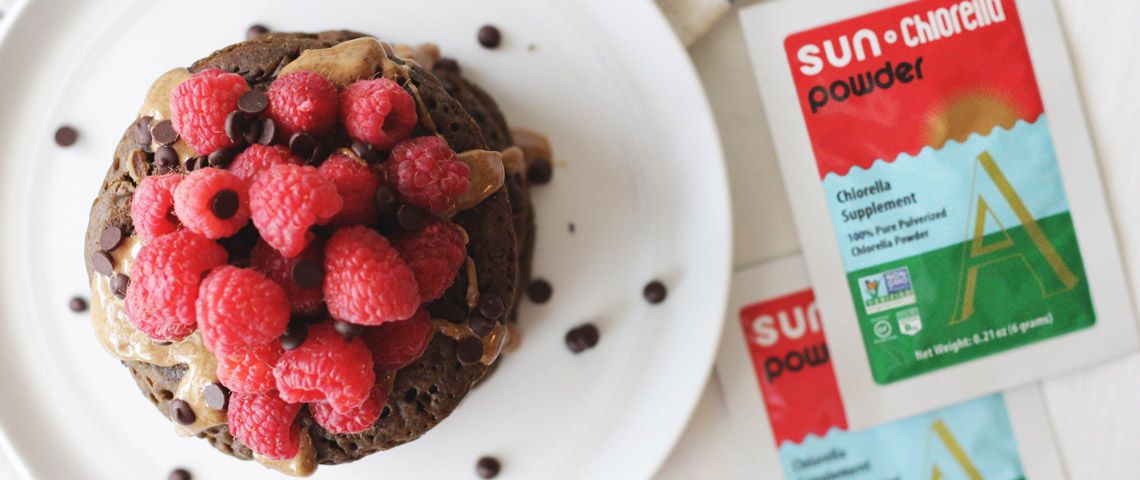 Yields: 12 mini pancakes or 8 regular pancakes 
Ingredients
1 cup whole wheat flour

1/2 cup quinoa flour

1 tsp baking soda

1.5 Tbsp cacao powder

1/2 cup unsweetened apple sauce

2 Tbsp coconut oil

3/4 cup light coconut milk

3 Tbsp maple syrup

1 tsp apple cider vinegar

Desired toppings (we used almond butter, maple syrup, vegan chocolate chips, and raspberries)
Directions
In a medium sized bowl, sift together the dry ingredients and set aside.

In another bowl, mix together the wet ingredients until incorporated.

Whisk the wet ingredients into the dry ingredients until well incorporated— but do not over mix.

Heat a non-stick pan over medium heat and lightly coat with coconut oil.

Spoon the batter into the pan and cook until small bubbles form in the middle (1-3 minutes). Once the bubbles form, carefully flip and cook the other side for an additional 1-2 minutes. 

Repeat until all batter is used up.

Stack the pancakes, add desired toppings, and enjoy! 
Further reading for vegan health and nutrition:
Homemade Chlorella Muesli Bar Recipe
Vegan Sources of B12: How Vegans get B12