Estimated reading time: 3 minutes
Is there anything more comforting than biting into a warm, melt-in-your-mouth donut on a cold winter day? Pair it with a cup of hot cider, Netflix, a cozy blanket, and you might never leave the house. The only problem with satisfying these inevitable comfort food cravings are the extra calories and lack of nutrients that can come from these treats. But who wants to give up donuts? Not us!
Instead, we've come up with far healthier baked chocolate donuts made with the amazing green superfood, chlorella. Not only do these donuts have a rich, decadent chocolate flavor guaranteed to satisfy your sweet tooth, but they also contain fiber, antioxidants, vitamins, and minerals. It's tough to beat that.
PS: Don't let their green color fool you- these donuts taste delicious! You'll also reap all of the nutritional benefits of chlorella, and what you'll taste is the sweet chocolate flavor of cacao powder and notes of warm brown sugar. 
Recipe Notes
*If you'd like to make this recipe 100 percent vegan, you can substitute the butter with a vegan butter, such as Earth Balance® (sold at your local health food store), and the egg for 1 Tbsp of ground flaxseed soaked in 3 Tbsp of water until it thickens.

**To make a vegan chlorella frosting, mix together 1 cup of powdered sugar, 2 Tbsp non-dairy milk, ½ tsp vanilla extract and 1 tsp Sun Chlorella Powder.

This recipe calls for 1 tsp of Sun Chlorella® Powder. You can purchase Sun Chlorella Powder in individual 6 g packets (2 tsp), or a 30 day supply.

For a gluten free option, substitute with your favorite gluten-free flour. Please note that this recipe was made with unbleached all-purpose flour. Using a gluten-free flour may slightly alter results.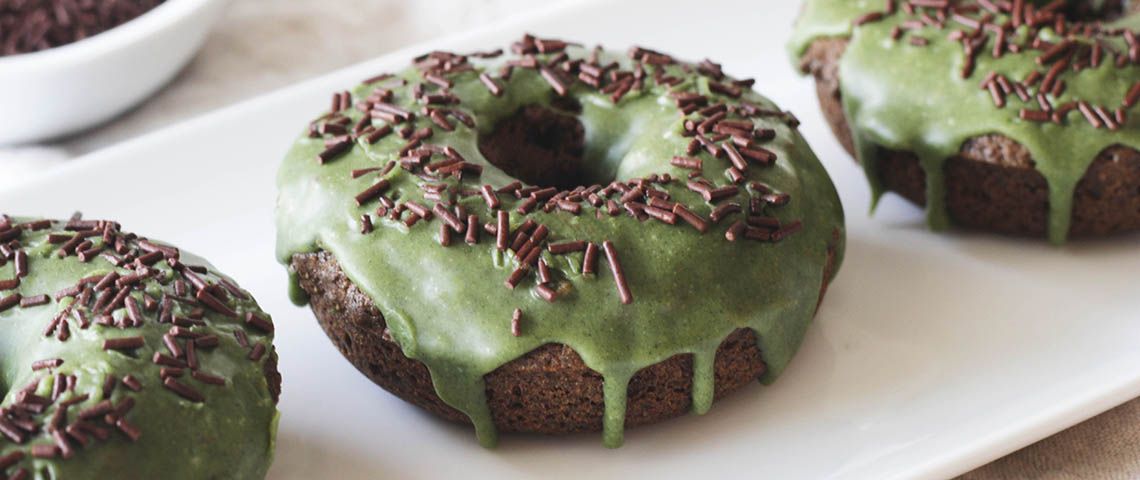 Yield: 12 Donuts
Ingredients:
For the donuts
1 cup all-purpose unbleached flour

1.5 tsp baking powder

1 tsp Sun Chlorella Powder

2 Tbsp cocoa powder

1/4 tsp salt

1/3 cup non-dairy milk

1/4 cup unsalted butter,* room temperature

1/3 cup brown sugar

1 egg*

2 Tbsp olive oil
For the chlorella frosting*
Special Equipment Needed:
Two – 6 count donut mold tins

Electric stand mixer or hand mixer

Piping bag (a Ziploc bag with one corner cut off works well)

Sifter
Directions:
Preheat the oven to 350 degrees Fahrenheit. In a medium sized bowl, sift together the flour, baking powder, Sun Chlorella Powder, cocoa powder, salt, and set aside.

Using an electric mixer, mix the butter and brown sugar until light and fluffy. Add the egg and olive oil and mix until incorporated.

Slowly mix the non-dairy milk into the dry ingredients, followed by the butter mixture. Stir until well incorporated.

Transfer the batter to a piping bag or a Ziploc® bag and pipe the batter into 12 donut molds. 

5. Bake for 13-15 minutes or until a toothpick inserted into the donut comes out clean.

To make the frosting, mix all ingredients together until desired consistency is reached.

Enjoy!
Author: Brandi Black, RHN