Chlorella Udon Noodles (200 g/7.0 oz, 3.5 Servings)
In celebration of our 40th anniversary, we're excited to release the Japanese History Collection of Chlorella Udon Noodles! But don't worry. While each udon package may look slightly different, every noodle is still jam-packed with the nutrition and flavor you love. 

Japanese History Collection
Our fully refreshed chlorella udon noodles collection consists of six trademarked packaging designs, meticulously crafted and inspired by different eras in Japanese History.
Make any of your favorite recipes nutritious with Chlorella Udon Noodles! So, what is in our Sun Chlorella Udon Noodles? They're an abundant source of vitamins A, B2, B6, Active B12, and D, as well as various minerals, including Magnesium and Iron. Plus they contain green superfood, chlorella!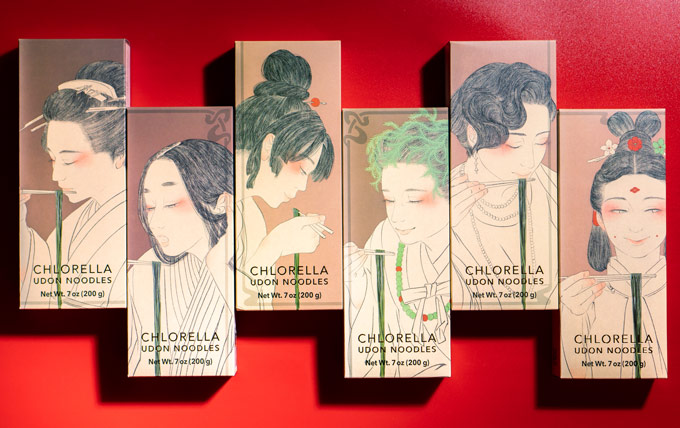 New Look, same great taste!

Each serving contains 2 grams of chlorella and is crammed with all the nutritional benefits of our chlorella supplements. It also has more chlorophyll than most other plants or foods — equivalent to about 2 to 2.5 cups of spinach or kale — to help support optimal and balanced health.
Delicous udon noodles packed with the wellness of Sun Chlorella!
Only four ingredients 

Plant-based

Good source of Vitamin D

Contains Iron

Made with premium unbleached wheat flour

Contains the nourishing benefits of green superfood, chlorella (2 grams per serving, equivalent ten 200mg Sun Chlorella tablets)!
GET YOUR CHLORELLA UDON NOODLES TODAY!
**Packaging design purchased will vary.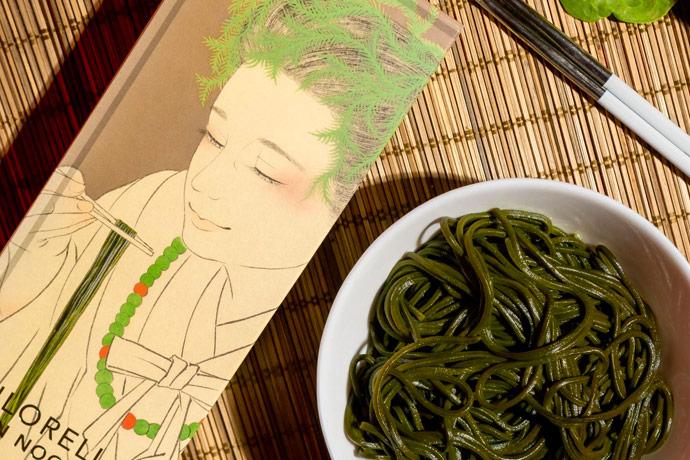 What Are Udon Noodles?

Udon noodles are a type of Japanese noodle used commonly in soups with a variety of broths. They're thicker than ramen noodles—typically two to four millimeters—and can be either flat or rounded. They're chewier, too.
Like most pasta-like dishes, udon noodles are primarily made of complex carbohydrates and non-animal proteins, with very low levels of fat. They're typically made using wheat flour, salt, and water.
What does it taste like? 
Mild umami flavor, pleasantly salty, delightfully chewy. Sealed to perfection for fresh flavor! Created in collaboration with the renowned noodle company, Ishimaru Seime, these noodles are sure to delight your taste buds!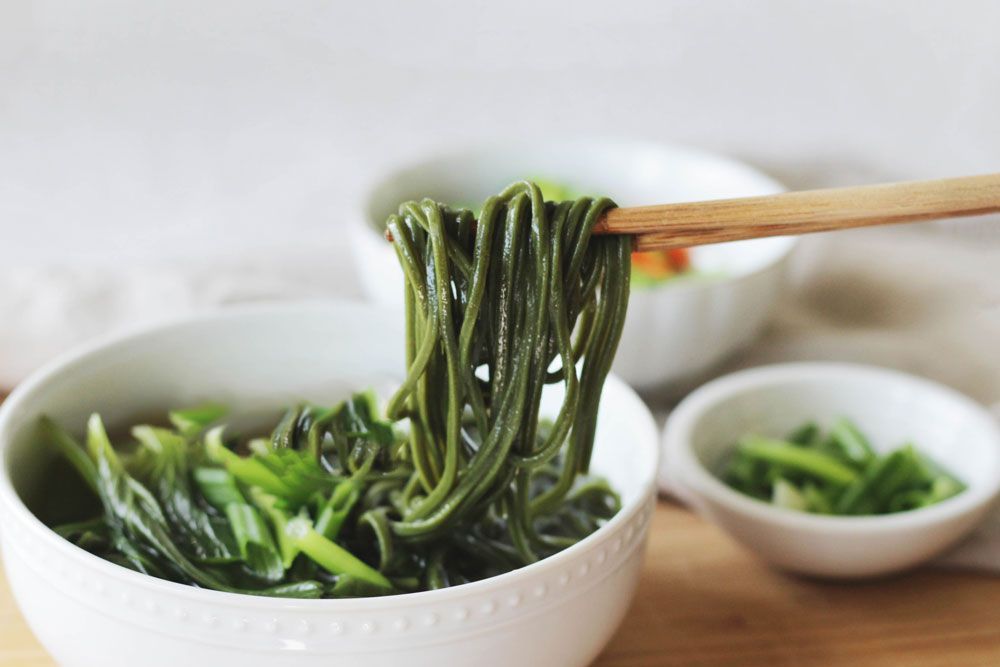 Are Udon Noodles Healthy?
We live in a time when health and wellness are at the top of almost everyone's priority list. We take more time to breathe, exercise, and consider exactly what we put into our bodies. Our food provides the nutrients we need for energy, growth, and all functions of the body, such as breathing, digestion, and cognitive abilities. So it makes sense to ask the question: Are udon noodles healthy?

Soup, veggies, tofu — they're all common sides or toppings served with a healthy serving of udon noodles. Health benefits vary, too.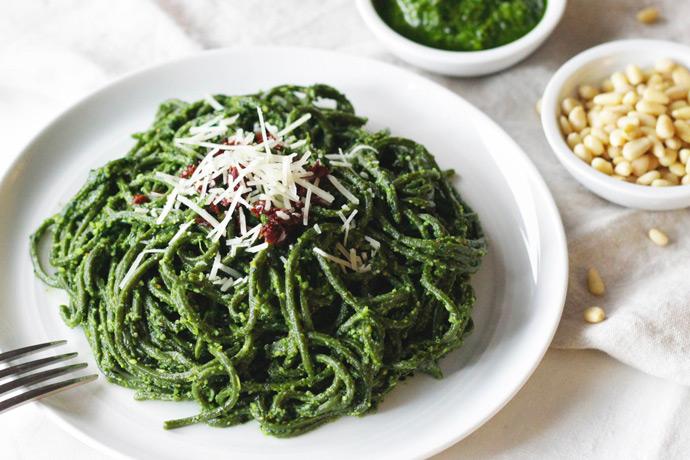 Benefits of Chlorella Udon Noodles
---
Complex carbohydrates, combined with our pulverized chlorella harvested through our proprietary DYNO®-Mill process, make our Chlorella Udon Noodles a terrific source of energy and warmth in the cooler months. They're also low in fat and contain protein.

Not to mention that Chlorella is considered a nutritional powerhouse that offers a variety of health benefits on its own:

Promotes a healthy immune function*

Supports normal energy levels*

Encourages healthy-looking skin*

Promotes eye health*

Helps support proper liver function*

Maintains healthy blood sugar levels*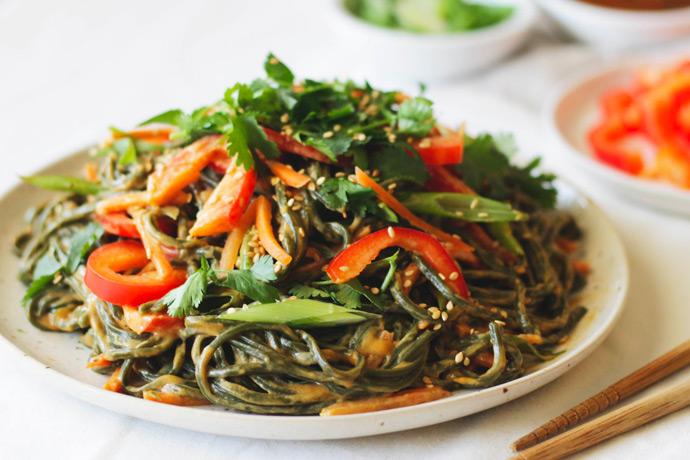 What is Chlorella?
---
Chlorella is a single-celled, freshwater green algae bursting with nutrients. Chlorella contains naturally occurring vitamins (like active Vitamin B12) and minerals, amino acids, antioxidants, Chlorella Growth Factor (CGF), and more chlorophyll per gram than any other plant food. When taken daily, chlorella can help support overall health, immune system, natural detoxification system, gut health, and much more!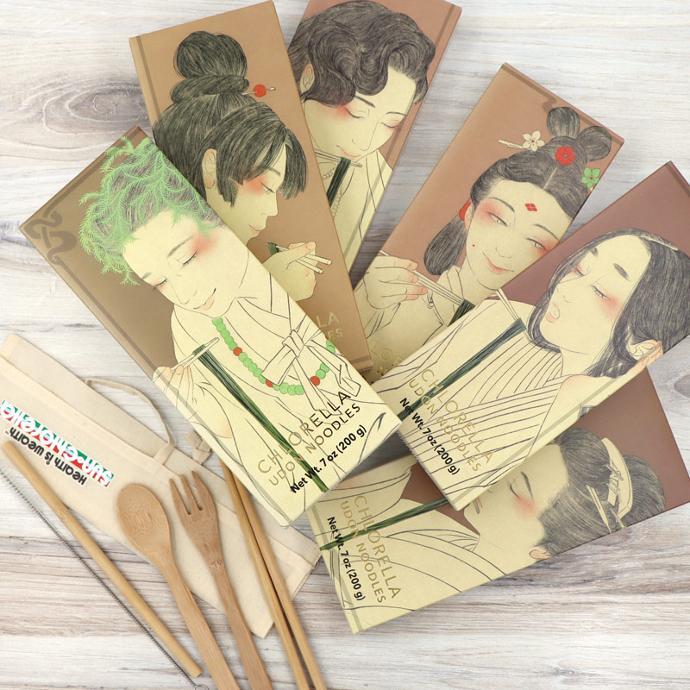 Bundle Sale!
---
Want to collect all 6 designs? Click here to order 6 boxes of Chlorella Udon Noodles Japanese History Collection and save 15% off regular price + free gift!

---
Why Choose Sun Chlorella?

Since 1969, A Brand You Can Trust
---
Since 1969 Sun Chlorella has been the leading premier chlorella brand winning prestigious awards for its quality and commitment to education and research. Feel the Sun Chlorella difference!


Corporate Social Responsibility
---
When you purchase from us, you help us continue to support non-profit organizations like The Gentle Barn, an animal rescue organization, and The Midnight Mission, a rehabilitation program for those in need.


Third-Party Testing
---
Sun Chlorella® products are regularly third-party tested for quality assurance.
All products are manufactured under the strictest conditions of sterility and accountability.