Spicy Peanut Chlorella Udon Noodles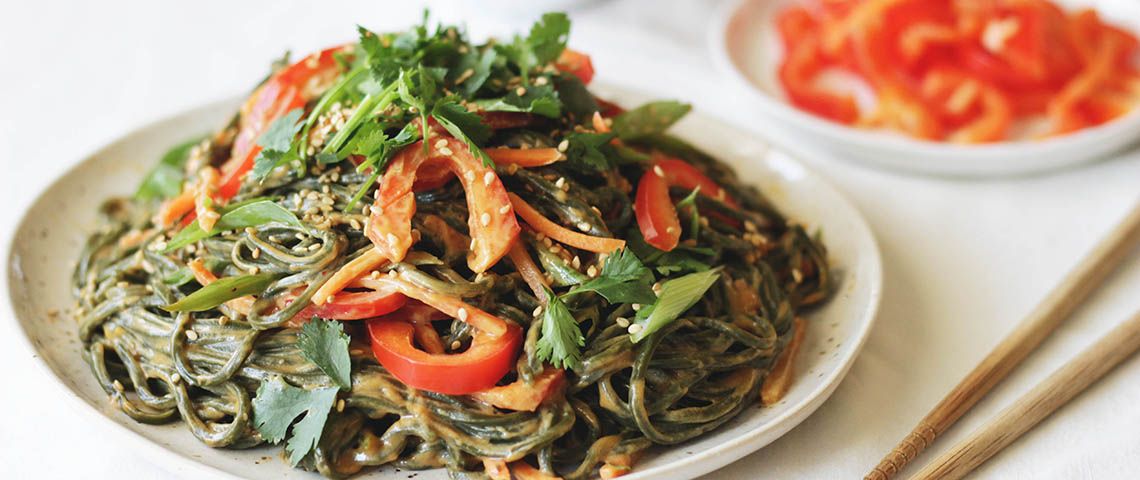 Our new Chlorella Udon Noodles open up a world of possibilities for the creative and health-conscious chef. Try this nourishing dish that combines the creaminess of peanut butter, a bit of spiciness, and the udon's satisfying chewiness. Read about the amazing benefits of chlorella here, like over 100%DV of Vitamin D, more chlorophyll than any other plant or food, and plant-based active B12! Serves 2-3 Ingredients
• 1 box Chlorella Udon Noodles
• 2 Tbsp Roasted sesame oil
• 1/2 Cup Peanut butter (you can substitute sesame tahini)
• 1Tbsp Maple syrup
• 2.5 Tbsp Soy sauce
• 3 Tbsp Rice vinegar
• 1 Tbsp Chili-garlic sauce
• Pinch black pepper
• 1/2 Cup shredded carrots
• 1 chopped scallion – including green stems
• 1 Tbsp sesame seeds
• Any additional toppings of your choice: tofu cubes, chopped peppers, steamed broccoli, whole peanuts, chopped cilantro, etc.
Directions
Cook noodles according to package directions. Be sure and rinse with cold water after cooking to tighten noodles.

In a medium bowl, whisk together the roasted sesame oil, peanut butter, maple syrup, soy sauce, rice vinegar, chili-garlic sauce, and black pepper until well incorporated.

Toss the noodles with the sauce along with shredded carrots, chopped scallion, sesame seeds, and your desired additional toppings.

Enjoy!