To our valued customers, in accordance with LA County Safer At Home order, Sun Chlorella USA will temporarily close down our business operations until further notice. Though we are operating remotely as much as possible, please know that our online store is closed; however, Sun Chlorella products are still available at the following retailers: Thrive Market, Amazon, Vitamin Shoppe, IHerb, All-Star Health, Erewhon, Fresh Thyme, Mother's Market, Sprouts, and select Wholefoods. We understand this may be a frustrating time, so we will have a team to answer any questions you may have starting Monday, 03/23/20. You can reach them by calling 1-800-829-2828 ext 2455 or via email at [email protected] We hope for the health and safety of you all.
Thank you for your interest in Chlorella Udon Noodles! Though we are currently not fulfilling orders though our website due to LA County Safer at Home order, you can still order Chlorella Udon Noodles today through iHerb, All-Star Health, and all Erewhon stores.

Contains 8 grams of chlorella, which means you get the same benefits and goodness of chlorella with each delicious bite.
Ready in 5 minutes cook time – Chlorella Udon Noodles are what's for dinner!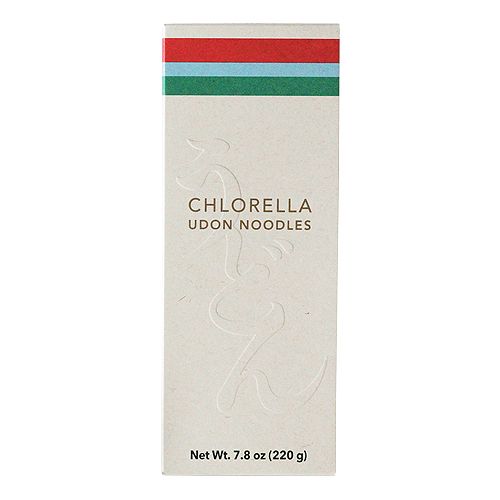 Chlorella Udon Noodles
1 box (4 servings, 7.8 oz)
($1.02/oz)
$7.99
Chlorella Udon Noodles
5 box special (4 servings, 7.8 oz each)
($0.93/oz)
$29.00

 INGREDIENTS: Wheat flour, food-starch modified, salt, chlorella powder.
CONTAINS: Wheat. 
Dimensions: 3.7(L)X9.45(W)X1.3(H) (inches)
Weight: 13.6 (oz)
Expiration date: June 12, 2020
Made in collaboration with the prestigious Japanese noodle company, Ishimaru Seimen—makers of udon noodles for over a century— we are confident you will love these nutritious noodles. Make any of your favorite noodle recipes with Chlorella Udon Noodles!

Chlorella Udon Recipes (click to view)
Superior Nutrition, Endless Possibilities!
Chlorella Udon Noodles Creation
Share your recipes on social, tag us @sunchlorellausa or
use #mysc for a chance to be featured.