AstarellaⓇ Primetime Skin Cream is formulated with a potent antioxidant called astaxanthin, which has shown promising benefits for protecting the skin, and maintaining the skin's appearance.  
Astaxanthin is sourced from marine life, such as microalgae (it's the pigment that gives these foods their pink, salmon-like color), and has been shown to have some photoprotective effects. This means astaxanthin may help reduce redness and inflammation associated with sun exposure.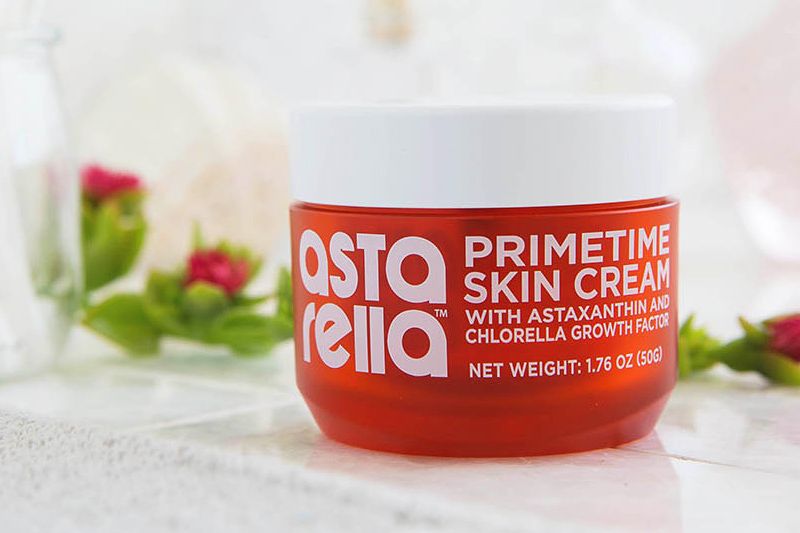 In addition to astaxanthin, Astarella's formulation is enhanced with shea butter, grapefruit seed oil, jojoba oil and Chlorella Growth Factor (CGF). You won't find parabens, gluten or fragrances in this formula— just pure, honest ingredients. 
I don't recommend skin care products unless I've tried them and have noticed benefits myself. So, I would like to share my personal experience from using AstarellaⓇ Primetime Skin Cream... 
I've used AstarellaⓇ Primetime Skin Cream since March 2016, and one benefit I noticed straight away was the brighter appearance and dewy texture my skin would have in the morning after applying it before bed. The pores around my nose also seemed smaller. 
With regular use of AstarellaⓇ Primetime Skin Cream, I noticed that my skin tone evened out to the point where I could ditch my tinted moisturizer, which tends to clog my pores and cause breakouts in humid climates. Since I live in the Caribbean for part of the year, this was a major benefit! I also found that the freckles I get on my nose from spending time in the sun didn't make their usual appearance this year— which I suspect may be due to the photoprotective benefits of astaxanthin. 
As a nutritionist, I diligently read labels to avoid harsh body care products, and I have yet to find a more effective skin cream— which is why I continue to recommend AstarellaⓇ Primetime Skin Cream to anyone looking to improve and maintain their skin health. 
Could AstarellaⓇ Primetime Skin Cream be what your skin is looking for?