Rejuvenating Orange Honey Cupcakes
Sun Wakasa Honey Plus can do amazing things for your body, like helping to repair damaged cells. The best part? You can add it to almost anything.
Sun Wakasa Honey Plus can be added to almost anything-try some today in decadent buttercream frosting. Enjoy citrus packed Rejuvenating Orange Honey Cupcakes with your afternoon tea to renew your body and soul. Featuring a bright, tangy flavor and a touch of sweetness from our Sun Wakasa Honey Plus, this treat is a perfect way to carry you through the day.
A little bit about Sun Wakasa Honey Plus…
Sun Wakasa Honey Plus contains an extract of Chlorella Growth Factor (CGF), the nucleotide-peptide complex completely unique to chlorella. CGF is what gives chlorella its ability to reproduce at an astounding rate, and when ingested, CGF may actually help stimulate cellular repair and renewal. No other food in the world can do what CGF does-happy guilt-free baking!
Yield: 20-24 cupcakes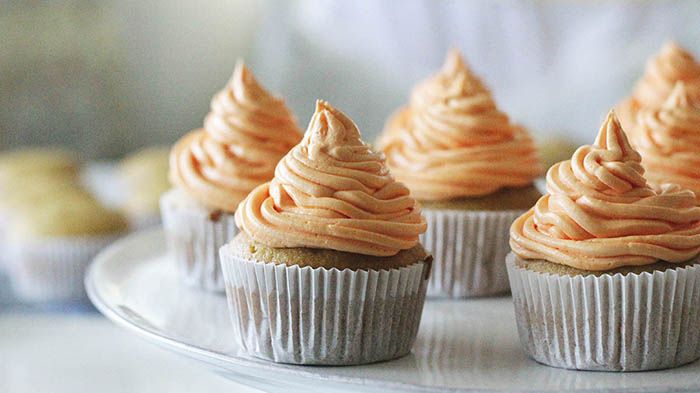 Ingredients:
Cupcakes
2 ¼ cups flour

3 tsp baking powder

Pinch of salt

1 ¼ cups light brown sugar

3 eggs

4 Tbsp honey

3/4 Tbsp orange extract

1 cup canola oil

1 cup cashew milk (or any type of milk/non-dairy milk)

1/2 cup orange juice (no pulp)
Buttercream
1/2 cup butter
2 cups powdered sugar
0.5 ml Sun Wakasa Honey Plus®
1 tsp orange extract
Natural orange food coloring, if desired
Directions:
Preheat the oven to 350°F and line two twelve-count cupcake tins with cupcake liners.

Sift together the flour, baking powder, and salt in a large bowl and set aside.

In a medium bowl, mix together the brown sugar, eggs, honey, orange extract, and canola oil. Slowly stir in the cashew milk and orange juice until well-mixed.

Spoon the batter into the cupcake tins until they are filled 2/3 of the way.

Bake for 20-23 minutes, or until a toothpick inserted into the center comes out clean.

Once the cupcakes are done, transfer them to a cooling rack and let them cool completely.

Buttercream frosting: Using an electric mixer, whip all ingredients in a large bowl until smooth.

Once the cupcakes are completely cooled, frost them as desired and enjoy.