To our valued customers, in accordance with LA County Safer At Home order, Sun Chlorella USA will temporarily close down our business operations until at least 04/19/20. Please know that our online store is closed; however, Sun Chlorella products are still available at the following retailers: Thrive Market, Amazon, Vitamin Shoppe, IHerb, All-Star Health, Erewhon, Fresh Thyme, Mother's Market, Sprouts, and select Wholefoods. We understand this may be a frustrating time, so we will have a team to answer any questions you may have starting Monday, 03/23/20. You can reach them by calling 1-800-829-2828 ext 2455 or via email at [email protected] We hope for the health and safety of you all.
Chlorella Strawberry Kiwi Popsicles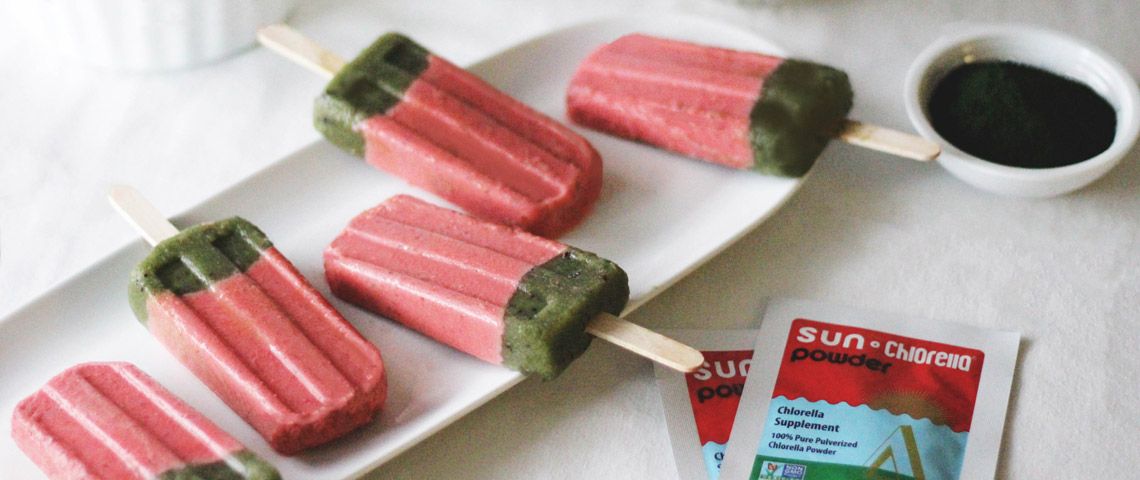 Summer's finally here, and what better way to beat the heat than with an ice-cold popsicle? Though some iced treats can be unhealthy, our Chlorella Strawberry Kiwi popsicles only use good-for-you ingredients like fruits, coconut milk, and our Sun Chlorella® Powder. It's great for kids (yes, kids can take chlorella too—read more here) and adults alike. Keep your family healthy this summer with easy Chlorella Strawberry Kiwi Popsicles. And remember, our Sun Chlorella® Powder can be added almost anything… like a refreshing fruit smoothie. 
A little bit about Sun Chlorella® Powder...
The finest consistency of chlorella that we offer, Sun Chlorella® Powder Packets can be easily incorporated into any summer treat! Chlorella has the potential to provide a host of benefits such as: helping to detoxify heavy metals from your body, supporting your body's natural repair process (thanks to its Chlorella Growth Factor), aiding in digestion process, boosting energy levels, and much more. Happy Summer!
Yield: 10 popsicles
Ingredients:
Strawberry layer
3 cups strawberries, hulled and sliced

1/2 cup coconut milk 

1 Tbsp chia seeds
Chlorella Kiwi layer
Directions:
To make the strawberry layer: in a high speed blender, puree the strawberries and coconut milk until smooth. 

Pour the mixture into the popsicle molds, until about 2/3 full. Place in the freezer for about 30 minutes.

While the strawberry layer is freezing, start making the chlorella kiwi mixture. In a high speed blender, puree the kiwi, chlorella, and a splash of coconut milk until smooth. 

Pour the kiwi mixture into the popsicle molds until filled. 

Place the popsicle sticks in the mold and return to the freezer for 1.5 hours, or until popsicles are frozen. 

Once frozen, run the popsicle mold under warm water and wiggle out. 

Enjoy!