Colorful, flavorful, filling— and loaded with a variety of beautifying plant foods— this double chlorella macro bowl is the ultimate way to increase the amount of vitamins, minerals, and antioxidants in your diet.
What is a Macro Bowl?
A macro bowl is like the grown-up version of the smoothie bowl. Instead of fruit, granola, nuts, and seeds, a macro bowl calls for leafy greens, a grain, a protein source (vegan or animal protein), raw and cooked vegetables, and healthy fat. As you may have guessed by the name, a macro bowl hits all the macronutrients you need to stay fueled during the day: protein, fats, and complex carbohydrates. 
Regarding meal prep, macro bowls are an extremely low-maintenance and delicious way to eat healthy during the week— especially when you don't have hours to spend in the kitchen. On your meal prep day, simply wash and chop various raw veggies, prepare a grain of choice (such as quinoa), cook some beans or lentils (or shredded chicken if you eat animal protein), and buy some pre-washed organic greens. Top with a healthy fat, such as a sliced avocado and homemade dressing, and you're all set for the week! 
There's no limit to the macro bowl flavor combinations you can create, which helps keep your meals interesting. If you're craving Mexican, use black beans, organic shredded lettuce, salsa, and top with guacamole. In the mood for Japanese? Add brown rice, sauteed kale, and a creamy miso dressing to boost probiotics. We recommend doubling the nutritional value of your macro bowl by adding the amazing green superfood chlorella. 
Why Should You Add Chlorella to Your Macro Bowls?
Chlorella is a green algae similar to spirulina but provides additional health benefits.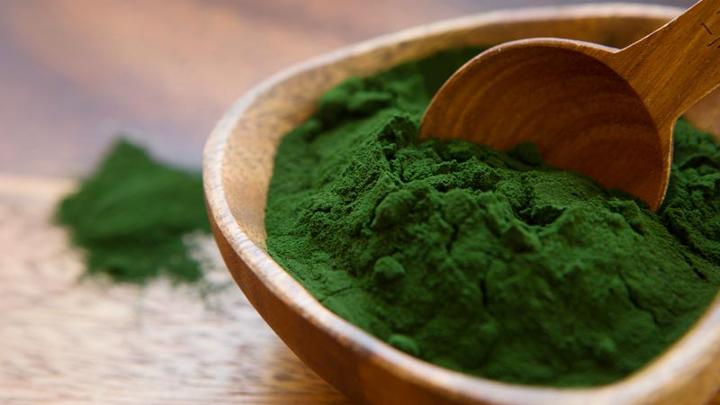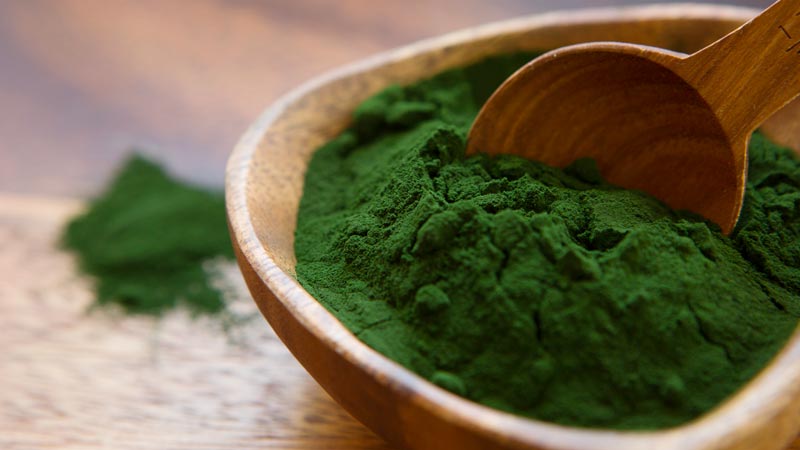 First, chlorella is richer in chlorophyll than spirulina, the plant pigment that gives all plant foods dark green color. Chlorophyll is high in magnesium and antioxidants. Another benefit of choosing chlorella over spirulina is that you'll receive active B12: the form of B12 that's best absorbed by the body. Spirulina contains an inactive form of B12 that is difficult for the body to absorb. Chlorella is the only known plant food to contain active B12, which is extremely important to know if you follow a plant-based diet and struggle with fatigue. 
Chlorella also contains more omega 3 and omega 6 essential fatty acids when compared to spirulina. Omega 3 and 6 fatty acids are naturally anti-inflammatory and needed to support healthy skin, hair, nails, and optimal cognitive function. 
Now, we know algae has a reputation for having a strong taste. If you're a little concerned about how the flavor of your macro bowl will turn out, don't fear. Although our Sun Chlorella Udon Noodles contains the equivalent of 10, 200 mg chlorella tablets per serving, what you'll taste is a savory or umami flavor, which is perfect for Asian-inspired bowls.  
Since the trick to making a good macro bowl is a smooth, creamy dressing, we've created a healthy, flavorful tahini sauce with garlic, lemon juice, cilantro, and a touch of Sun Chlorella Powder to drizzle over the edamame, spinach, avocado, tofu, and sweet potato. 
Double Chlorella Macro Bowl
Yields: 1-2 servings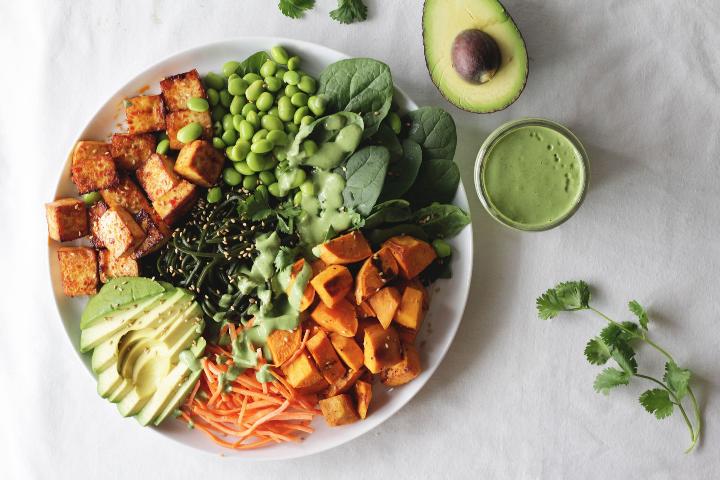 Ingredients
For the macro bowl
            -1/2 Tbsp avocado oil (for sweet potato)
            -Pinch of salt and pepper (for sweet potato)
1/2 block of extra firm non-GMO tofu, cubed
            -1 Tbsp soy sauce (for tofu)
            -1 Tbsp sesame oil (for tofu)
            -2 tsp garlic chili sauce (for tofu)
1/2 box of Chlorella Udon Noodles

1/2 avocado, sliced

Handful of spinach or mixed greens

1/3 cup edamame

1/3 cup shredded carrots

Sprinkle sesame seeds on top
For the cilantro tahini dressing
1/2 cup tahini

1/4 cup water

1 Tbsp lemon juice

1/2 tsp garlic powder

Pinch of salt

Handful of cilantro

1/2 tsp Sun Chlorella Powder
Preheat the oven to 400 degrees F.

Mix the sweet potato cubes with avocado oil, salt, and pepper until evenly coated. Place sweet potato cubes on a baking sheet and bake for 20 minutes or until the edges are golden brown.

While baking the sweet potato cubes, press excess moisture out of the tofu, and mix with the soy sauce, sesame oil, and garlic chili sauce. Let sit until the sweet potato cubes are done cooking. 

Place the tofu cubes on a baking sheet and bake for 15 minutes or until the edges are browned. 

While the tofu cubes are baking, bring a large pot of water to a boil. Cook the Chlorella Udon Noodles for 5 minutes, and immediately rinse with cold water to stop the cooking process. 

To make the cilantro tahini dressing, blend all ingredients until well incorporated. 

Arrange a large bowl or plate with the sweet potato cubes, tofu cubes, Chlorella Udon Noodles, spinach, shredded carrots, edamame, and sliced avocados.

Top with a drizzle of the cilantro tahini dressing, and enjoy!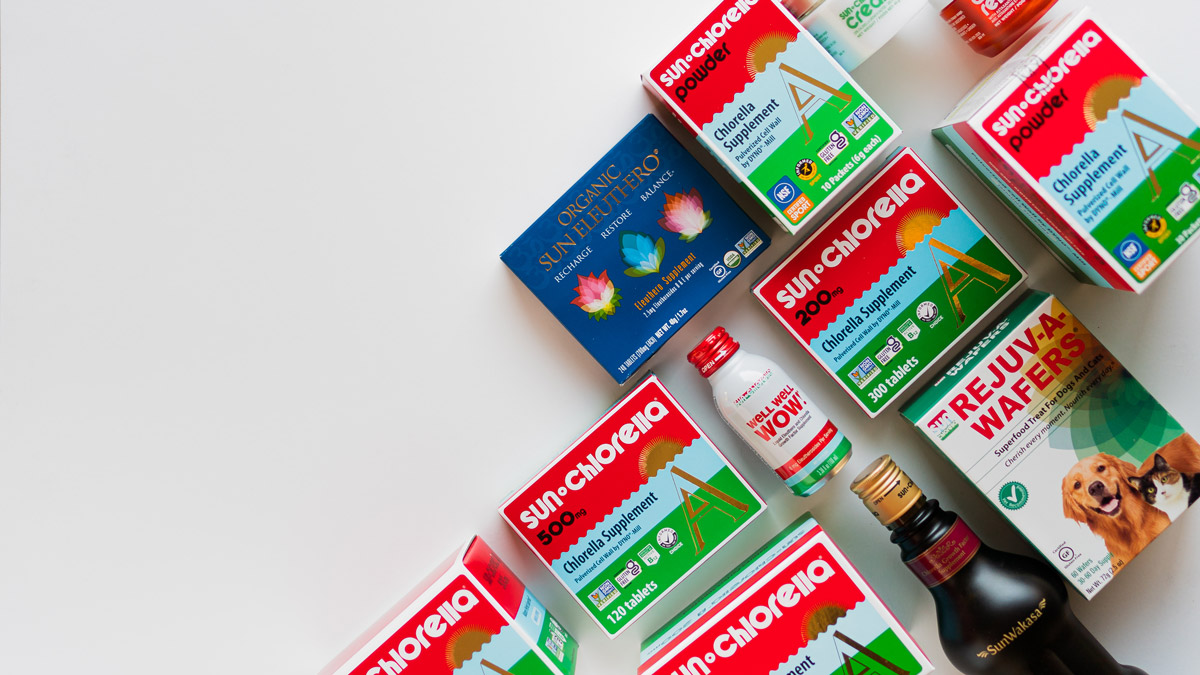 Ready to Find Your Chlorella?
---
Find your best chlorella that fits your lifestyle. Sun Chlorella offers easy-to-take small tablets, larger tablets, and powder form.

---