Chlorella Udon Spring Rolls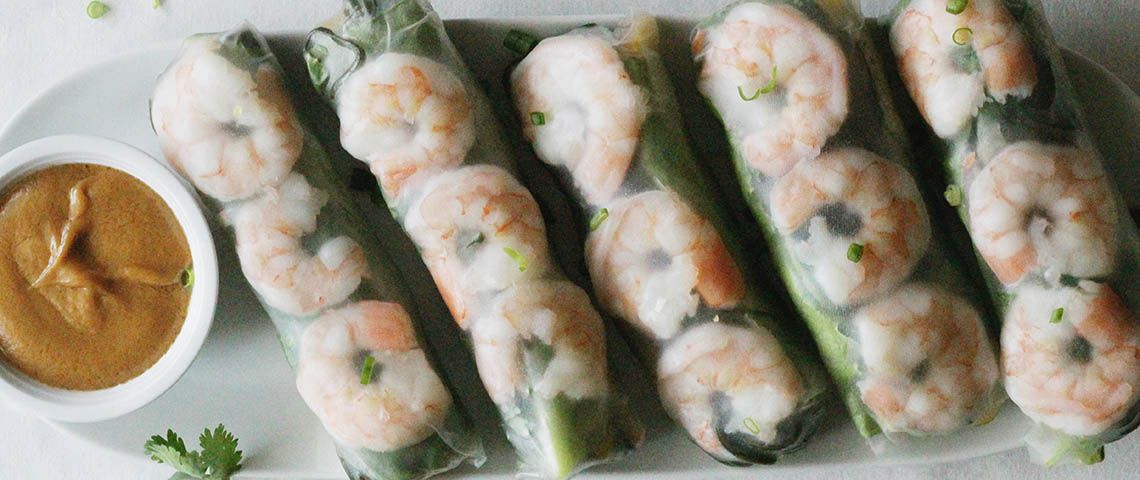 Yield: 12-14 Rolls
Ingredients:
Half a box of Chlorella Udon Noodles

18-20 shrimp, de-shelled

2 medium carrots

1 medium yellow bell pepper

1 1/2 cucumbers

A handful of cilantro

Green onions
Peanut Sauce
4 Tbsp peanut butter

1.5 tbsp water

1 Tbsp soy sauce

1 Tbsp hoisin sauce

1 tsp rice vinegar

1 tsp lemon juice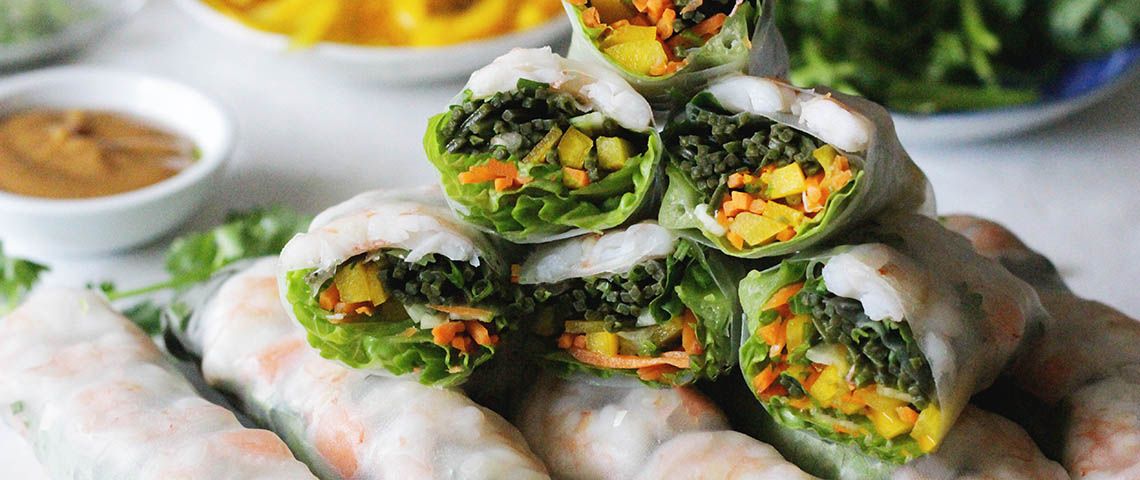 Directions:
Prepare a bowl of water with ice and set aside.

Bring a pot of water to a boil. Add Chlorella Udon Noodles, adjust the heat to medium-low, and cook for 4-5 minutes. Drain noodles and immediately rinse with cold water and place in the bowl of ice water to stop the cooking process. Drain again.

Bring a pot of water to a boil. Add the shrimp and stir occasionally until pink. Drain the shrimp and rinse with cold water. Cut the shrimp into halves.

Chop the carrot, bell pepper, and cucumber into long, thin slices and set aside.

Set up a work station with easy access to rice paper, vegetables, noodles, and shrimp. Fill a large bowl with lukewarm water to dip the rice papers in.

Submerge the rice paper in lukewarm water for 4-5 seconds (or prepare the rice paper according to instructions on packaging) and place on a flat surface to assemble the wraps. The rice paper may still be stiff, but it will soften as you work with it.

Place 3 shrimp halves, inside facing up at the top third of the rice paper. Place noodles, carrots, bell peppers, cucumbers, cilantro, and green onions on the bottom third of the rice paper.

Roll the bottom up until vegetables are covered, and fold the sides in. Continue rolling up all the way.

To make the sauce, stir all ingredients together. If the sauce is too thick, add 1 Tbsp of water at a time until desired consistency is reached.

Enjoy!