Estimated reading time: 3 minutes
Lemon loaf lovers, eat your heart out! If you're in search of a delightfully sweet but nutritious snack, you've landed in the right spot. 
This 100 percent plant-based vegan lemon zucchini bread with chlorella takes the idea of a traditional lemon loaf to the next level. Loaded with fiber, antioxidants, and vitamins and minerals, it's an ideal mid-afternoon "pick me up", and could also serve as an excellent grab 'n' go breakfast for those chaotic mornings when you need nutrients the most. (Did we mention these freeze well?)
Adding shredded zucchini to the bread helps increase the fiber in this recipe—which most of us have difficulty meeting our daily requirements of—and keeps the calorie count low without compromising on nutrients. 
The zucchini, lemon, and applesauce in this recipe add a dose of vitamin C, which is not only needed for boosting immunity, but is also considered a top "beauty nutrient" for its ability to help improve and maintain the appearance of healthy, glowing skin. 
The superstar of this recipe is chlorella, a single-celled green algae — and one you may not have considered baking with before. But with so many unique health benefits, we can't help but add chlorella to as many recipes as possible—and baking is no exception!A great way to catch your reader's attention is to tell a story. Everything you consider writing can be told as a story.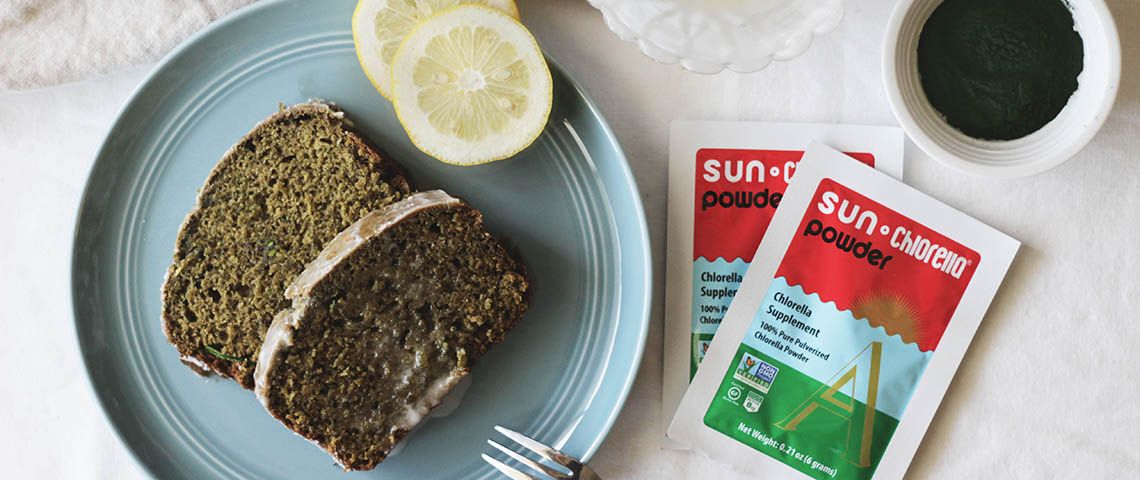 Chlorella is the only food to contain a powerful nutrient called Chlorella Growth Factor (CGF), which is rich in the nucleic acids, RNA and DNA. You may be familiar with RNA and DNA as the nucleic acids that help your cells repair and regenerate—a health benefit we could all use a little more of, since we're exposed to toxins in the environment each day. 
Chlorella is also the only known plant-based source of active B12 , the form of B12 that's best absorbed by the body, and usually only found in animal products (vegans, take note). 
This recipe calls for one teaspoon of Sun Chlorella Powder, which can be purchased as single serving packet (perfect if you're trying chlorella for the first time) or in a 30 day supply. 
Yield: 10-12 slices

Ingredients: 
For the zucchini bread
1 cup shredded zucchini

3 Tbsp coconut oil, melted

3 Tbsp unsweetened apple sauce

1/2 cup coconut palm sugar

1/3 cup light brown sugar

1/4 cup cashew milk

1.5 tsp vanilla extract

3 Tbsp freshly squeezed lemon juice

1 1/2 cup flour

1 tsp baking soda

1/4 tsp salt

1/4 tsp cinnamon
For the lemon icing
1 - 1.5 Tbsp lemon juice

1/2 cup powdered sugar
Directions:
Preheat the oven to 350F.

Line a loaf pan with parchment paper, making sure a little bit hangs over the sides for easy removal later.

Shred the zucchini into thin slices with a cheese grater, and use a paper towel to squeeze out the moisture.

Place the zucchini, coconut oil, applesauce, coconut sugar, brown sugar, Sun Chlorella Powder, cashew milk, vanilla extract, and lemon juice in a medium bowl and mix until combined.

In another medium bowl, sift together the flour, baking soda, salt, and cinnamon.

Add the dry ingredients to the wet ingredients and stir until mixed.

Pour the batter into the loaf pan and flatten out the top with a silicone spatula.

Bake for about 38-43 minutes, or until a toothpick inserted into the center comes out clean.

Let bread cool on a wire rack. While the zucchini bread is cooling, prepare the icing. Mix the lemon juice and powdered sugar until a paste is formed. If the icing is too thick, add more lemon juice.

Once the zucchini bread is completely cooled, glaze the top with lemon icing and enjoy!
Author: Brandi Black, RHN