Estimated reading time: 4 minutes

These vegan chocolate chip cookies are chewy, soft, and gooey— what more could you want from a cookie?
Our goal is to make it as fun and tasty as possible for you to add Sun Chlorella to your recipes. Being an incredibly nutritious green algae, chlorella is commonly taken as a nutritional supplement in tablet-form, or added to green smoothies. But there are so many more ways you can take advantage of chlorella's impressive nutrient profile— and baking vegan chocolate chip cookies is one of them. Perfect as a healthier afterschool snack, an enjoyable evening dessert, or a unique treat to share with friends and family, start enjoying cookies that are as good for you as they are delicious!
Although chlorella can have a robust taste on its own, when combined with other ingredients, such as the vanilla extract, matcha powder, coconut milk, chocolate chips, and applesauce in this cookie dough, you won't even know it's there. To add even more flavor you love, sub regular vegan chocolate chips for dairy-free white chocolate chips, or go half and half.
Most vegan recipes are deficient in some essential vitamins, but unlike your standard chocolate chip cookie, these vegan chocolate chip cookies are packed with antioxidants, vitamins, and minerals from the matcha green tea powder and chlorella (don't be surprised if you feel energized after eating these cookies!) Why matcha green tea? Matcha provides many health benefits while not being overly sweet. Sometimes known for having a bitter taste, the matcha in this recipe has enough sweet ingredients surrounding it that you'll still get a delicious chocolate chip cookie taste. Different from regular green tea in the way it's grown and harvested, this green Japanese tea leaf is grown in the shade and gives off a vibrant green color, helping to tint these cookies. Antioxidants, vitamins and minerals to complement those of Sun Chlorella's powder, matcha green tea can support your metabolism and energy. Find it at your local asian market, natural health food market, or from your favorite online retailer.
What about Sun Chlorella Powder? Chlorella is a freshwater green algae packed with vitamins and minerals, like vitamin D and iron. One of the only plant sources of active Vitamin B12, Chlorella is an excellent addition to a vegan diet (and so is this recipe!). Chlorella supports your body's natural immune and digestive processes to promote overall wellness, inside and out.
Let us ask you this: have you ever had a chocolate chip cookie that contains nucleic acids? It may sound a little scientific, but one of the unique health benefits of chlorella is that it contains the nucleic acids, which are key nutrients needed for the body's cellular repair and regeneration process. Your body naturally produces nucleic acids, but as you age, you produce less and less.  Chlorella may help your body to maintain skin health. Healthier-looking skin here you come! 
Adding foods that contain nucleic acids to your diet is a great way to maintain a healthy immune system, youthful-looking skin, and entire body health. Who says you can't get these powerful nutrients in the form of a cookie? Not us! 
Note: To keep these cookies entirely plant based, be sure to purchase dairy-free chocolate chips.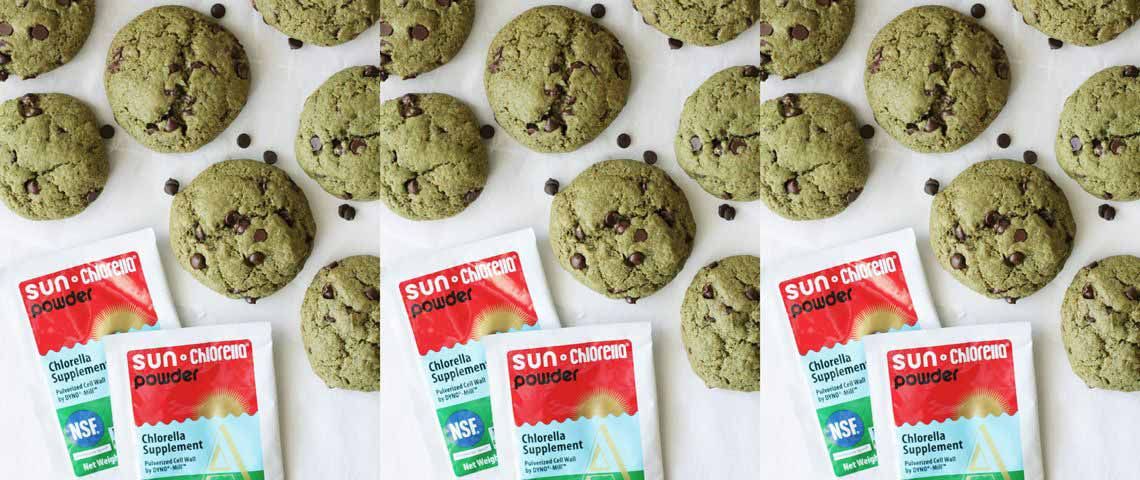 Vegan Chocolate Chip Cookies With Matcha and Chlorella

Yields: 20-25 cookies
Ingredients
● 2 1/4 cup whole wheat flour
● 1 tsp baking soda
● 1-1.5 tsp Sun Chlorella Powder
● 1/2 Tbsp matcha powder
● Pinch sea salt
● 1/2 cup vegan butter
● 1 1/2 cup + 1 Tbsp light brown sugar
● 2.5 tsp vanilla extract
● 5 Tbsp full fat coconut milk
● 3.5 Tbsp unsweetened applesauce
● 1 cup mini chocolate chips or 1 1/2 cup regular chocolate chips (non-dairy to keep the recipe vegan)
Directions
1.    Preheat the oven to 375 degrees Fahrenheit and line a cookie sheet with parchment paper.
2.    In a medium bowl, whisk together all the dry ingredients, except for brown sugar, and set aside.
3.    In a large bowl, mix the vegan butter and brown sugar with an electric stand or hand mixer until well-mixed.
4.    Add the vanilla extract, coconut milk, and applesauce to the brown sugar mix and whisk until incorporated.
5.    Add the previously whisked dry ingredients into the wet ingredients until a thick dough forms. Fold in the chocolate chips.
6.    Spoon the batter onto the cookie sheet, leaving an inch or so between each cookie.
7.    Bake the cookies for 12-15 minutes, or until the edges are golden and a toothpick inserted into the center of a cookie comes out clean, without any dough stuck to it.
8.    Leave the cookies to cool on the cookie sheets for a few minutes before taking them off. (Even though those melty chocolate chips are so tempting. Okay, if you sneak one we won't tell...)
9.    Enjoy!

Author: Brandi Black, RHN
Further reading for vegan health and nutrition:
Vegan Dessert Recipe: Chlorella Chocolate Dipped Strawberries and Bark (Dairy-Free, Vegan)
Vegan Vitamin Deficiency: What Vitamins Vegans Need
Why Every Vegan Needs Vitamin B12
READY TO MAKE YOUR OWN SUPERFOOD COOKIES?