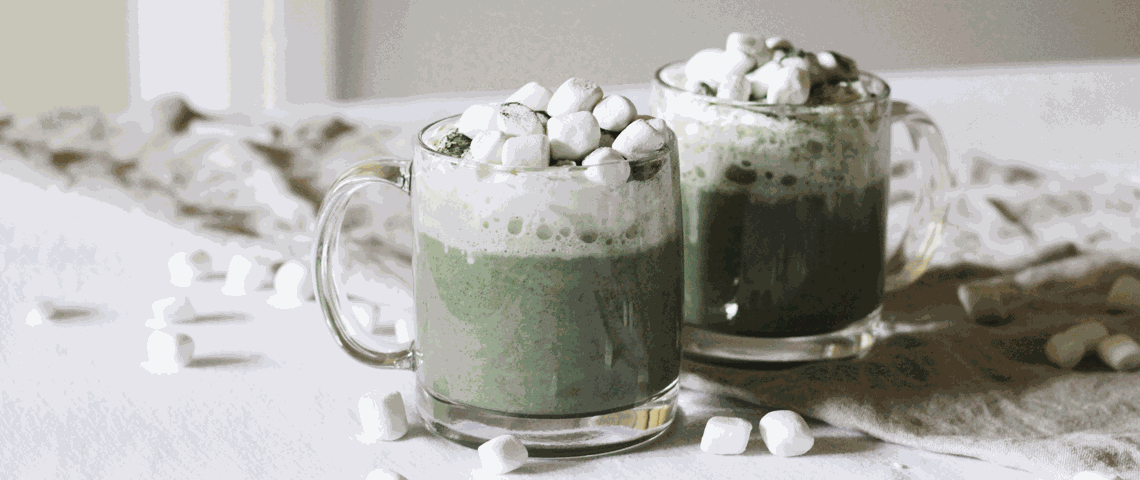 March 1, 2019

Estimated Reading Time: 2 minutes

There's a new gut-supportive latte with antioxidants in town that could very well turn you into a morning person (and no, we're not talking about turmeric). Coffee shops have started to offer a new green brew by adding algae (like chlorella) to frothy milk, to create chlorophyll lattes. If you're not a green juice or smoothie person, this may be the ultimate solution for getting greens into your mornings.
What is Chlorophyll? 
Chlorophyll is a green pigment that gives plant foods— such as chlorella, broccoli, and kale— their deep green color. That's right, caffeine is no match for this plant pigment. Chlorella is an algae that contains chlorophyll and provides several other essential vitamins and minerals you need to feel your best.
Superfood Coconut Milk Latte: The Ultimate Pick-Me-Up
We've put our own twist on this cafe trend and created a coconut milk latte recipe with chlorella and matcha green tea, instead of espresso. Since excess caffeine consumption can wear down the adrenal glands over time— and almost guarantees a 12 p.m. blood sugar crash— this is a healthier alternative for energy that lasts longer during the day. This comforting superfood coconut milk latte is naturally sweetened with vanilla extract and maple syrup and blended with creamy coconut milk and coconut cream for gut supportive healthy fats. Feel free to garnish with a pinch of cinnamon if you'd like!
Does It Matter Which Chlorophyll Superfood You Choose?
As mentioned earlier, chlorophyll is found in green plant foods such as broccoli and kale.  However, there are a few key differences to know. To get you straight to the point, chlorella is one of the best sources of chlorophyll on the planet! But wait, there's more!
Chlorella is the only food known to contain Chlorella Growth Factor (CGF), a nutrient that has the nucleic acids, RNA and DNA. RNA and DNA act as messengers to store information and give instructions to your cells. This means that by promoting cellular health, chlorella also may support energy production, as well as help maintain your normal immunity, digestion, and hormonal health. Another benefit unique to chlorella is that it contains active B12, which is the form of B12 that's best absorbed by the body. Most plant foods contain inactive B12— a form that's been shown to be poorly absorbed. This is why chlorella is a great addition to anyone's diet, especially if you follow a vegan diet and need to get your B12 from plant sources. Now, let's get to the recipe.

Yield: 2 servings
Ingredients:
2 cups coconut milk (light or full fat)

1 tsp Sun Chlorella Powder

2 tsp matcha powder

1.5 Tbsp maple syrup

1 tsp vanilla extract

1/8 tsp sea salt

Coconut whipped cream and marshmallows to top
Directions: 
In a saucepan over medium heat, whisk together all ingredients until well incorporated. Heat until the mixture is hot but not boiling. Once hot, remove from heat, pour into two mugs, top with coconut whipped cream and marshmallows, and enjoy!

Author: Brandi Black, RHN