To our valued customers, in accordance with LA County Safer At Home order, Sun Chlorella USA will temporarily close down our business operations until at least 04/19/20. Please know that our online store is closed; however, Sun Chlorella products are still available at the following retailers: Thrive Market, Amazon, Vitamin Shoppe, IHerb, All-Star Health, Erewhon, Fresh Thyme, Mother's Market, Sprouts, and select Wholefoods. We understand this may be a frustrating time, so we will have a team to answer any questions you may have starting Monday, 03/23/20. You can reach them by calling 1-800-829-2828 ext 2455 or via email at [email protected] We hope for the health and safety of you all.
Vegan Holiday Peppermint Crinkle Cookies with Chlorella
By Brandi Black, RHN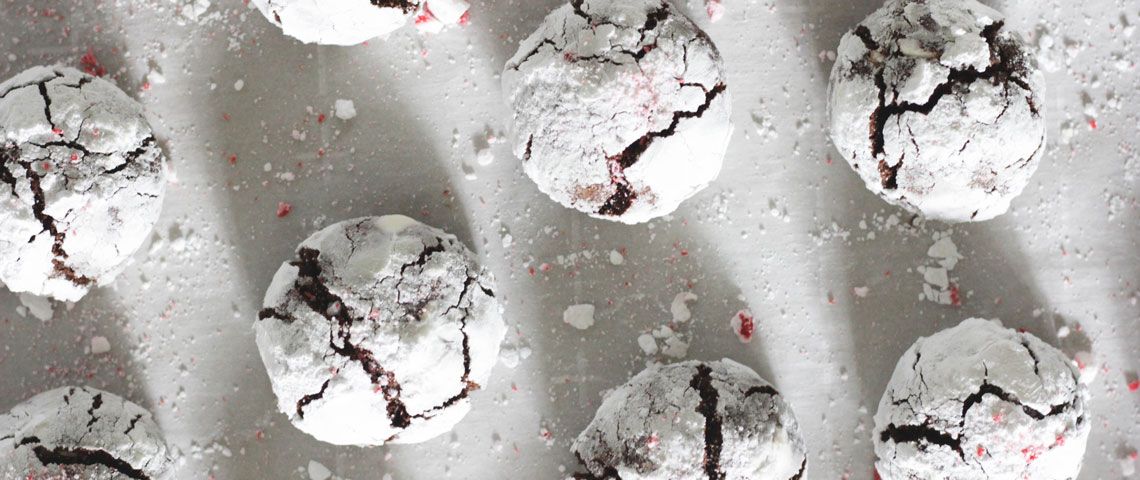 When it's your turn to bring a holiday snack, the decision of what to make typically goes one of two ways: 1) the nutritious way— which usually involves hummus and carrot sticks— or 2) the specialty desserts way, such as a batch of Christmas cookies with double chocolate frosting. Rather than having to choose between the two, these delicious vegan chocolate crinkle cookies can help you satisfy the health nut and dessert lover at your party.
Similar to mini peppermint chocolate brownies, crinkle cookies are a hit all year long. To give the traditional crinkle cookie recipe a holiday makeover, we've added vegan white chocolate chips and a hint of peppermint to complement the double chocolate flavor. Then, the cookie dough is rolled in powdered sugar, baked, and topped with crunchy peppermint pieces. *Drool*
While these crinkle cookies will satisfy your sweet tooth any day, they also pack more nutritional value than your average holiday cookie because they're made with chlorella.
Vegan Holiday Peppermint Crinkle Cookies: Health Benefit Highlights
Algae in your holiday baking? Don't worry. Before you second guess these cookies as a crowd pleaser, it just so happens that chlorella— a freshwater fresh algae with vitamins, minerals, and antioxidants— blends seamlessly with the rest of the ingredients. You won't even know it's there. In fact, chlorella isn't a stranger to baking at all— it also works well with these Vegan Gingerbread Cookies with Chlorella and Baked Chocolate Donuts with Chlorella.
As a side note and healthy holiday tip: adding a teaspoon of chlorella granules to your baking and daily green smoothie recipes is a great way to maintain balance during the holidays and times of indulgence. You don't have to say no to Granny's shortbread (that would just be cruel). However, you can feel energized, keep your digestion on track, by continuing your intake of plant foods, such as chlorella.
This crinkle cookie recipe calls for a few other healthy ingredients, such as unsweetened applesauce (for a boost of vitamin C) and coconut oil. As a source of medium chain fatty acids, coconut oil provides sustainable energy and may promote blood sugar balance, which prevents those dreadful energy spikes and crashes. Using whole wheat flour adds more fiber to this recipe than using refined white flour, which is stripped of all its nutrients. All in all, not too shabby for a batch of fudgy chocolate Christmas cookies. We know you'll absolutely love baking (and eating) these mini crinkle cookies. Now, let's crank the holiday music and get to the recipe. Happy baking!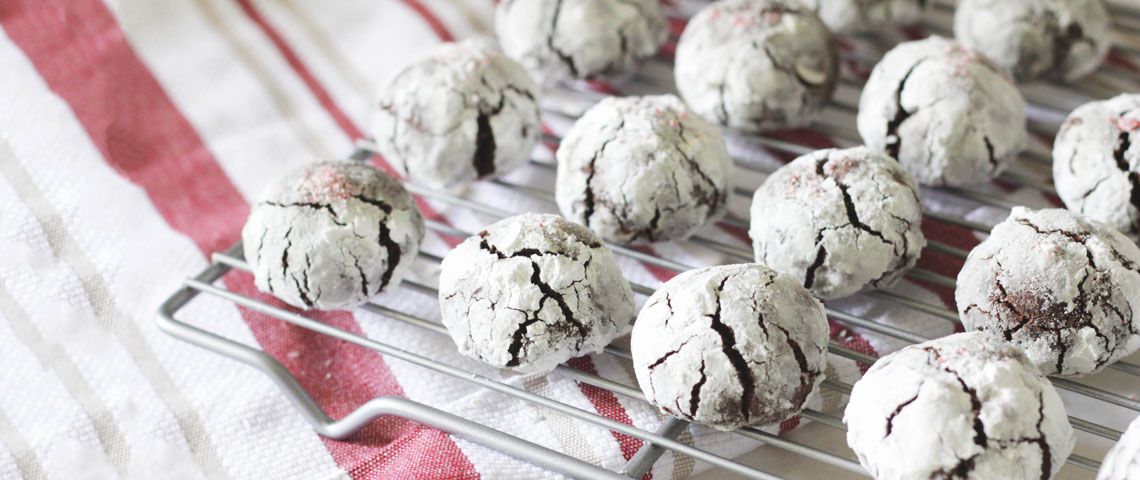 Ingredients
2 cups whole wheat flour, sifted  

1.5 tsp Sun Chlorella Granules  

2.5 tsp baking powder  

Pinch of salt  

1 cup natural cocoa powder  

1.5 cup light brown sugar  

1/2 cup coconut oil, melted  

3/4 cup unsweetened apple sauce

1 tsp vanilla extract 

1.5 tsp peppermint extract  

3/4 cup vegan white chocolate chips 

1/2 cup sugar (to coat)  

1/2 cup powdered sugar (to coat) 

Crushed peppermint candies (to top)  
Directions
In a medium sized bowl, sift the whole wheat flour, Sun Chlorella granules, baking powder, and salt together and set aside.   

Using an electric hand mixer, mix the cocoa powder, light brown sugar, melted coconut oil, apple sauce, and both extracts until incorporated.   

Fold in the flour mixture, 1/3 of it at a time, until a dough forms. Fold in the vegan white chocolate chips.   

Wrap the dough in plastic wrap and chill in the refrigerator for 2 hours.   

Preheat the oven to 350 degrees F and line a baking sheet with parchment paper.  

Roll the dough into balls around 1 – 1.5 inches in diameter. Roll the balls in the regular granulated sugar first, then in the powdered sugar.  

Bake for 11-13 minutes or so, until the cookies have cracked.

Top with crushed peppermint candies, let cool completely, and enjoy
    Author: Brandi Black, RHN