4 Detox Smoothie Recipes
By: Brandi Black, RHN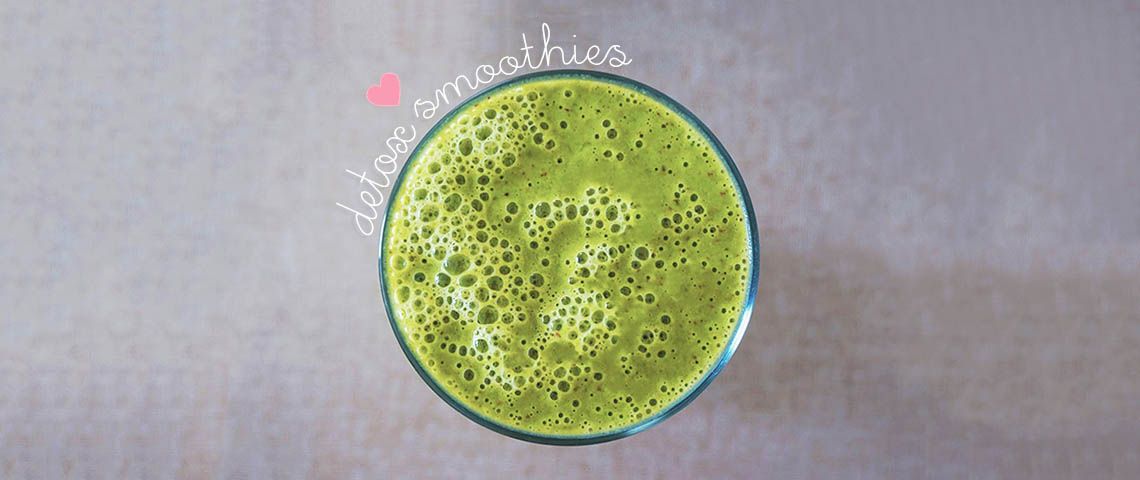 Many of us try to stick to our health goals during the holidays, but I'm sure you'd agree that December just wouldn't feel the same without the traditional chocolate, mashed potatoes, stuffing and gravy.

As a nutritionist, I believe that regardless of what you decide to eat, guilt is one ingredient that should never accompany a meal. In fact, I also believe that when you feel guilty after eating a certain food, your body responds to that emotion and metabolizes it in a different way. So enjoy every bite, and don't let a few treats stop you from continuing on with your health and/or natural weight loss goals.

Now that the holidays have come and gone, you may be left feeling a little tired, sluggish and bloated. This is likely because many of the foods that accompany popular holiday dishes are rich in animal protein, slower to digest and congest the liver. Meat, dairy products (oh, that egg nog!) and refined sugar can all contribute to the feeling of heaviness in your digestive system (and add on a few extra holiday pounds as a belated Christmas gift). And as you may already know, the substances found in dairy products, alcohol, refined sugar and animal protein can act as toxins in your body.

To get back on track with your health and wellness and get rid of the post-holiday food baby, it's always a good idea to drink a green smoothie every morning on an empty stomach to help give your digestive system a boost to do its jobs more efficiently. Drinking smoothies on an empty stomach allow for optimal digestion and assimilation of nutrients, and provide long-lasting energy to sustain you throughout the day.

Here are four post-Christmas detox smoothie recipes that incorporate specific ingredients for your liver. The combination of nutrients in each smoothie will help improve your digestive function to take away the bloat so your energy levels can soar.
Detox Smoothie Recipe No. 1: Minty Fresh
Ingredients
1 cup spinach
handful fresh mint leaves
1 frozen banana
½ avocado, pitted
1 cup almond, coconut or cashew milk
3 tbsp hemp heartsthe juice of ½ lime

Place the spinach and mint in a blender with nut milk and blend until smooth. Add remaining ingredients and blend again. Add small splashes of water to reach desired consistency if necessary.

Health Benefits:
Spinach is high in fiber and the antioxidant vitamins A and C, three nutrients your body requires to help promote safe elimination of toxins from your body.

Avocado is a fruit full of healthy monounsaturated fats that promote cardiovascular health and healthy digestive function. Avocados also contain more potassium than a banana, which is an electrolyte that gets depleted by eating high amounts of sugar or drinking alcohol. Mint is an herb that is used commonly in alternative medicine to alleviate digestive upset and promote overall digestive health (and fresh breath!).

The hemp hearts and avocado in this smoothie act as a source of healthy fats and protein to slow the release of the natural sugars from the fruit into your bloodstream. This mechanism will prevent the dreadful blood sugar crash and spike, and instead provide you with steady energy throughout your entire morning.
Detox Smoothie Recipe No. 2: The Baby Kale, Pineapple and Coconut Cleanser
Ingredients
1 cup baby kale
the juice of ½ a lemon
½ cup fresh or frozen pineapple
1 green apple, chopped
Sun Chlorella granules
½ cup filtered water to reach desired consistency
½ cup coconut milk

Blend kale, coconut milk and filtered water and blend until smooth. Add remaining ingredients and drink up!

Health Benefits:
Just like spinach, kale is a powerful dark leafy green that helps assist the liver with its body detoxification process. Kale also provides the body with the fiber it needs for "housecleaning", as fiber acts as an intestinal "broom" to help gently clear out waste from your digestive tract.

The citric acid in lemon juice helps your body digest food more efficiently by promoting the production of stomach acid. The pineapple in this smoothie contains the antioxidant vitamin C and also provides your body with the plant enzyme, bromelain which further aids in digestion.

The coconut milk in this smoothie is high in healthy fats to slow the release of natural sugar into your bloodstream. Coconut milk also contains fiber, as well as the antioxidant vitamins E and C that act as immune system boosters and are needed to help disarm the free radicals that lead to illness and disease.

Chlorella, a single-celled algae, is the shining star of this smoothie. Known for having one of the highest amounts of plant-based protein amongst nutritional supplements, chlorella is one of the best superfoods for health (especially after holiday indulgence) because it contains a unique nutrient called Chlorella Growth Factor, or CGF.

Chlorella Growth Factor is the reason why chlorella can multiply by four times every 20-24 hours. The fact that an algae can reproduce at such a rapid rate only implies how beneficial it can be to the cells in the human body. CGF helps with cellular repair and regeneration by providing the body with RNA and DNA. The benefits of chlorella go even further, as chlorella growth factor also helps your body utilize proteins efficiently, which can promote a restful sleep, hormone balance and a loss of mid-section weight gain.

Chlorella Growth Factor is such a beneficial nutrient to receive from your diet. RNA and DNA are usually produced by the body, and their production naturally declines with age. By receiving RNA and DNA through foods in our diet, we help conserve our body's energy and add an increased amount for cellular health. Our cells risk becoming easily damaged and/or congested from the toxins in the foods we eat, our environment and household products. Without good cellular health, you feel sluggish, tired and are at risk of experiencing health complications down the road.
Detox Smoothie Recipe No. 3: Luxurious Liver Elixir
Ingredients
1 cup spinach
1 cup dandelion greens or watercress
2 stalks celery
1 inch ginger root
1 green apple
1 cup frozen mango
1 cup filtered water
the juice of ½ lemon

Blend water and greens until smooth. Add remaining ingredients and enjoy.

Health Benefits:
Your liver and gallbladder favour bitter foods, so dandelion greens or watercress act as the perfect ingredient for post-holiday detoxification.

The celery, spinach, apple and mango contain plenty of fiber, antioxidant vitamins, minerals and plant based proteins that support the safe elimination of toxins through digestive health. The ginger in this smoothie recipe also acts as a natural digestive aid, which is especially helpful if you're experiencing post-holiday bloating and flatulence.
Detox Smoothie Recipe No. 4: South Beach Sunset
Ingredients
2 medium sized carrots
1 frozen banana
the juice of one small lime
1 cup filtered water
3 tbsp hemp hearts

Place all ingredients in blender and blend until smooth. Drink immediately.

Health Benefits:
The carrots, banana and lime not only make a refreshing combination, but also provide several key nutrients to the body for gentle cleansing and energy. Carrots contain plant based flavonoids and the antioxidant vitamin A, which both help promote efficient liver function.

The hemp hearts in this recipe slow the release of the natural sugars from the fruit into your bloodstream while providing omega 3 essential fatty acids that are also required for liver detoxification[1].

While life is about balance and it's good to have treats in moderation (especially when enjoyed with good company), it's always important to keep the health of your cells and digestive system in mind. Since your overall health and wellness stems from the health of your gut, you can't have a healthy body or feel your best without taking good care of your digestion. It's remarkable how much better you can feel in terms of energy, motivation and digestive function when you provide your body with the nutrition it requires for your overall health and wellness.

Now that you have these detox smoothie recipes, you can use them all year long to regain your health and promote body detoxification after a day or weekend of indulgence. The nutrients in these smoothie recipes will help give your system the natural body detox support it requires to help eliminate the toxic build up from your body, promote natural weight loss and regain vibrant health. You may also find it helpful to regularly take natural health supplements such as chlorella to boost your immune system and promote long-term health and wellness.

About Brandi Black, RHN
Brandi Wagner is a Registered Holistic Nutritionist from Vancouver, B.C. Experiencing her own health challenges at a young age led her to become passionate about educating on the healing properties of food, and how to achieve hormone balance, clear skin and sustainable weight loss naturally. In her spare time you'll find Brandi writing in her blog and hanging out with her teacup chihuahua, Coconut.

Attention: Readers, Publishers, Editors, Bloggers, Media, Webmasters and more...
We believe great content should be read and passed around. After all, knowledge IS power. If you'd like to share any of the insightful articles on SunChlorellaUSA.com, you may republish or syndicate it without charge. The only thing we ask is that you keep the article exactly as it was written and formatted. You also need to include an attribution statement and link to the article. This information is proudly provided by Sun Chlorella. For more information visit https://www.sunchlorellausa.com/.

Sources: 
[1] http://info.nihadc.com/integrative-health-blog/bid/36413/Omega-3-s-Essential-Fatty-Acids-and-Detoxification