Estimated reading time: 3 minutes
Meatless Monday, eat your heart out! 
This chlorella vegan fried rice recipe is packed with energizing vitamins and minerals, plant-based protein, and delicious, savory flavor. We're willing to bet you won't even notice the eggs are missing from this popular rice dish.
Fried rice is a comfort food many of us love, but this easy recipe has a secret ingredient, which provides a healthy twist on an old classic: chlorella.
Chlorella is most commonly known as a green superfood that can be added to healthy smoothie recipes for a vitamin and mineral boost. What most people don't know is that chlorella also pairs well with all kinds of lunch and dinner recipes. If you don't believe us, wait until you give this easy chlorella vegan fried rice recipe a try. In fact, we recommend adding chlorella to as many of your recipes as possible, and here's why.
Aside from providing a whole spectrum of essential vitamins and minerals, chlorella contains the nucleic acids RNA and DNA. Your body needs these nucleic acids to help with cellular repair and regeneration. And when your cells are healthy, you have loads of energy, glowing skin, and a rock solid immune system. You feel healthier and happier. 
Speaking of happiness, chlorella is also one of the only known plant food to contain active B12, (the happy vitamin), the form of B12 your body absorbs most efficiently.
Following a vegan diet can make meeting your B12 requirements and other vegan vitamin deficiencies can be difficult— but it's estimated that nearly 40% of the entire American population is B12 deficient (1). Low vitamin B12 levels can negatively affect your health— risk of depression being one of them. A study showed that vegans and vegetarians were twice as likely to suffer from depression as meat eaters, even after adjusting for variables such as job status, number of children, and family history (2).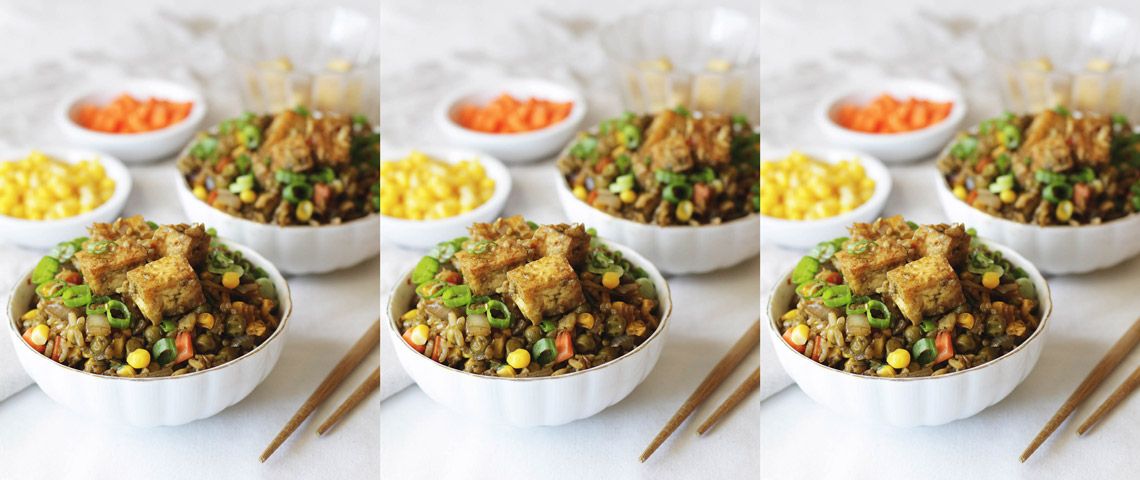 Yields: 2-4 servings
Ingredients
4 Tbsp soy sauce, divided (1 Tbsp and 3 Tbsp)

1.5 cups firm tofu, cubed

1.5 Tbsp olive oil

2 cloves garlic, minced

1 cup diced carrots

1/2 an onion, diced

3/4 cup corn kernels

3/4 cup peas

1.5 cups riced cauliflower *

1 cup long grain brown rice

2 tsp garlic chili sauce

1 cup chopped green onions
Optional: 1 tsp Sun Chlorella
Preheat the oven to 375 degrees F and line a small baking pan with parchment paper.

In a small bowl, add 1 Tbsp soy sauce, and toss the cubed tofu until evenly coated. Bake the cubed tofu for about 20 minutes, or until the edges are golden brown.

While the tofu is baking, heat the olive oil in a large pan on low-medium heat. Cook the garlic, carrots, and onions for 3-4 minutes, and then add the corn kernels and peas. Cook for an additional 2-3 minutes. 

Add the brown rice, riced cauliflower, soy sauce (3 Tbsp), garlic chili sauce, green onions, and Sun Chlorella Powder (optional), and cook for an additional 3 minutes.

Top with baked tofu cubes, and enjoy!
Recipe Notes

*You can buy cauliflower rice at your local health food store. Or, if you'd prefer to make your own, simply chop cauliflower into florets, and process them in the food processor until the texture resembles rice grains.
2 Journal of Affective Disorders January 1, 2018, Volume 225, Pages 13-17
Further reading for vegan health and nutrition:
Vegan Vitamin Deficiency: What Vitamins Vegans Need