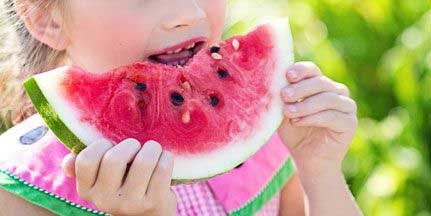 Estimated reading time: 8 minutes
Updated October 6, 2019
Healthy kids are well-nourished kids. To grow big, strong, and smart, kids need to have the right nutrition. 
Despite the abundance of food at our disposal, our kids are losing out on fresh vegetables, fruits, whole foods in their diets. This means that they may be missing out on the essential vitamins and minerals that children's growing bodies need.  
This is why chlorella can be a great addition to kids' nutrition. This green superfood can't replace an overall approach to healthy eating, but with its dense nutritional profile (such as B vitamins, beta-carotene, iron, magnesium, vitamin D, chlorophyll and nucleic acids), chlorella adds an outstanding nutritional punch to your children's healthy diet. Chlorella can offset some of the bad and complement the good.   
Remember that your children's bodies are working overtime. Their bodies need the recommended daily intake of vitamins and minerals to help support your child's growth.
So when you add good nutrition into your children's diet, you're giving them a special gift that will stay with them for the rest of their life.
Chlorella Is Safe Nutrition For Kids
"But is it safe?" is probably the first question you have about adding chlorella to your children or grandchildren's diet. Yes, it is absolutely safe, but always consult your child's pediatrician or health care provider before starting them on any new dietary supplements. Plenty of chlorella users give it to their children and grandchildren and report great results.  
Rita F. of Tampa Bay, Florida, gave chlorella to her young daughter. She reports: " The difference in Angela is tremendous. After taking chlorella for 10 months, she is more alert, active and growing by leaps and bounds. In the last two months, Angela has started taking dancing lessons, joined Girl Scouts and started roller skating. She had no interest in these before." 
Nutritionist David Nelson, Ph. D. started giving chlorella to his son, Brandon, when he was 1 ½ years old. "He loves it!" 
And if you were worried that children would object to the flavor, Nelson reports: "He chews those little tiny green tablets like they are candy. He then smiles with a big green smile and puts his hand out for more." 
I started giving chlorella to my children when they were eight months old. It makes a great alternative to sugar-y children's vitamins. Chlorella is a superfood and completely natural, and in my opinion is the best nutritional product that I can give to my children on a regular basis. 
I also give my children chlorella to teach them good health choices. As a medical doctor who specializes in nutrition, one of the most important things I can do for my children is to get them in the habit of choosing nutritious foods and supplements. That is why my kids watch me take chlorella every day. And sure enough – it works. They want to take it too!
Chlorella Supports Healthy Kids' Development
Not only is chlorella safe for young children, but it can also help give them a healthy start while they're still inside their mom's belly. 
Not only that, but chlorella may be one of the best safety nets to ensure our littlest ones get nourishment from their mother's breast. A few years back, traces of pesticides like dioxin and other dangerous chemicals were found in womens' breast milk. Disturbed by these instances of dioxin contamination, Japanese scientists decided to examine how chlorella could help reduce the problem.  
Dioxin levels were measured in the blood, fat, breast milk, cord blood and placentas of 44 pregnant women. Twenty-three of these women then took chlorella during their pregnancy. When the researchers measured the dioxin levels in the breast milk of the women after delivery, they found that the women taking chlorella had 30% lower dioxin levels in their breast milk than women who didn't.[3]  
Not only that, but these same scientists repeated this research with 35 breastfeeding women. About half of the participants took chlorella. And the researchers measured their dioxin levels before and after chlorella supplementation. This time, not only did they see the same reduction in dioxin levels in the breast milk when the women took chlorella, they saw an increase in immunoglobulin A.[4] 
Immunoglobulin A, an important immune system protein, is a key component of how breastfeeding women confer their immunity to their children. Found in all the entrance ways to our bodies, it's one of our body's first defenses against germs. Supporting a mother's immune system is critical to a healthy pregnancy and brings the baby a good head start in the first few years of life. 
Even if children lose out on a healthy beginning in the womb or the first few months of life, chlorella can still offer an important boost for them in any stage of their life.
Chlorella Supports Healthy Growth With Strategic Nutrition
For a number of reasons, many children don't get off to a great start at birth, which may set them up for a tough first few years.
For babies and children, healthy weight gain is critical. Research demonstrates a strong connection between low birth weight and increased risk in adulthood of developing diseases like hypertension, diabetes and obesity.[4] 
Chlorella's exceptional nutrition may support the reversal of this early health deficit as well. Researchers in Japan gave 22 boys and 18 girls 2 grams of chlorella for 112 days. Fifteen girls and 22 boys did not take chlorella. When the study ended, the boys who had taken the chlorella had grown twice as rapidly as the boys who didn't take chlorella – beating them by ½ inch. They had also gained 2.3 pounds (healthy weight) versus the non-chlorella boys' 1.6 pounds.
The girls experienced no significant difference in height gain, but the girls taking chlorella gained 4.2 pounds (healthy weight) while the girls who did not gained only 2.7 pounds.
As you can see, chlorella supports your children's healthy weight gain. It may be important to note that chlorella helps with healthy weight gain, but nothing beyond that. In fact, many chlorella users attest that it cuts down on cravings and between-meal snacking.[5] 

Chlorella May Help Keep Kids' Teeth And Gums Healthy

Some other benefits of chlorella include supporting children's teeth and gum health. Chlorella has more of the green plant pigment, chlorophyll, than any other plant food. And studies have shown chlorophyll to be a dentists' best friend. In a study at the Nebraskan orphanage, Boy's Town, 589 boys took part in a "toothbrushing experiment". One group of boys used regular toothpaste dyed green with food coloring while the other group brushed with toothpaste spiked with chlorophyll. The group brushing with chlorophyll had 58-70% improvement in dental health. This contrasts dramatically with the 28% improvement experienced by the non-chlorophyll group.[6]


Chlorella Supports Balanced Immune Health
Kids are magnets for microbes. By supporting immune health, chlorella can help your children contend with these tiny trespassers.
Supplementing with chlorella seems to increase white blood cell count to stay within normal levels and improve immune responsiveness.[8] Chlorella not only supports immune system responsiveness, but it also seems to help keep your immune system response balanced.
In a study conducted in Japan, taking 3-5 grams of chlorella daily helped children with healthy comfortable breathing despite previous challenges to keeping their immune response balanced. Chlorella intake also helped these children eat food that previously had caused digestive discomfort.[9]
While most of the research on children using chlorella shows its safety, there is one cautionary note. One study found immunoglobulin E specific to chlorella in children with mold allergies. Immunoglobulin E is an immune protein associated with allergic reactions.[10]
While you might want to start chlorella slowly with your child if he or she has allergies to mold, overall, parent experience and research shows that children can take chlorella regularly without any ill effects. As always, it is important to consult with your physician before starting any new supplements for you and your kids.  
Give Your Kids Chlorella – Powerful And Safe Nutrition For Kids
Our children depend on us to give them a good start in life. And while we try as parents to give them what they need, it isn't easy. Our frantic lifestyles can easily swallow our time, attention and best intentions.

Without good nutrition, your kids may experience more colds, allergies and trips to the dentist. Poor nutrition may also lead them to adult health problems decades down the road.
The solution to our children's growing nutritional needs can't be solved with one green superfood like chlorella. I wish it were that easy! Instead, it takes a whole commitment to changing schedules and habits. Nonetheless, chlorella can provide immense support to helping us raise healthy kids. It provides an easy, surprisingly tasty, form of assurance that can make it easier for families to turn things around.
Give your kids the benefits of chlorella 
Author:  Dr. Mark Drucker
Sources:
[1] Learn the Facts. Let's Move website. Viewed 3/14/11 at http://www.letsmove.gov/learnthefacts.php
[2] Nakano S et al. Chlorella pyrenoidosa supplementation reduces the risk of anemia, proteinuria and edema in pregnant women. Plant Foods Hum Nutr. 2010 Mar;65(1):25-30.
[3] Nakano S et al, Maternal-fetal distribution and transfer of dioxins in pregnant women in Japan, and attempts to reduce maternal transfer with Chlorella (Chlorella pyrenoidosa) supplements. Chemosphere. 2005 Dec;61(9):1244-55. Epub 2005 Jun 27.
[4] Nakano, S et al. Chlorella (Chlorella pyrenoidosa) supplementation decreases dioxin and increases immunoglobulin a concentrations in breast milk. J Med Food. 2007 Mar;10(1):134-42.
[5] GC et al. Birth Weight and Adult Hypertension, Diabetes Mellitus, and Obesity in US Men Curhan, Circulation. 1996;94:3246-3250[6] Drucker, M. Chlorella: The Key To Health, Vitality and Longevity. Health And Happiness Publishing. Greenville, NC: 2002. p. 30
[7] Jensen, B. Chlorella, Jewel of the Orient. Escondido, CA: Bernard Jensen, Publisher, 1987p. 27
[8] Chlorella Experiment wwith Maritime Self-Defense Forces Members, Scientific Reports on Chlorella In Japan. 1992, Silpaque Publishing, Inc. Kyoto, Japan.
[9] Merchant et al. Dietary chlorella pyrenoidosa for patients with malignant glioma: effects of immuno-competence, quality of life, and survival, Phytotherapy Research, 1990; 4(6): pp. 220-231.
[10] Chiba, T et al. Clinical effect of chlorella vulgaris E-25 on young children with atopic dermatitis, Pasken Journal, 1997, 9-10: pp. 11-14
[11] Tiberg E, et al. Detection of Chlorella-specific IgE in mould-sensitized children. Allergy. 1990 Oct;45(7):481-6.