To our valued customers, in accordance with LA County Safer At Home order, Sun Chlorella USA will temporarily close down our business operations until at least 04/19/20. Please know that our online store is closed; however, Sun Chlorella products are still available at the following retailers: Thrive Market, Amazon, Vitamin Shoppe, IHerb, All-Star Health, Erewhon, Fresh Thyme, Mother's Market, Sprouts, and select Wholefoods. We understand this may be a frustrating time, so we will have a team to answer any questions you may have starting Monday, 03/23/20. You can reach them by calling 1-800-829-2828 ext 2455 or via email at [email protected] We hope for the health and safety of you all.
Chlorella's Vitamin Power
By Aiko Jin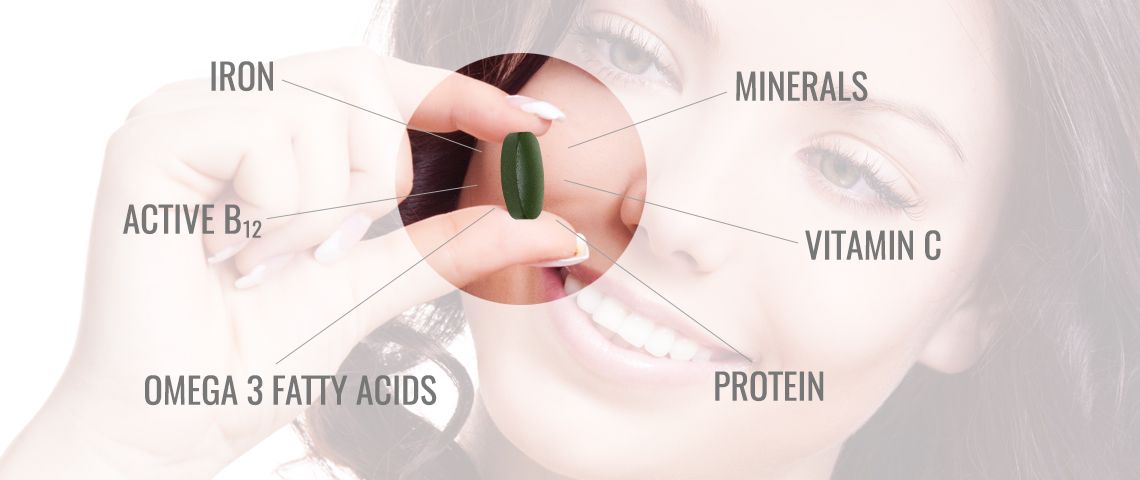 March 1, 2019 -- There are so many wonderful things about chlorella. It's an amazing superfood with unique nutrients. A lot of people add it regularly into their daily supplement routine and are amazed at the benefits it brings into their lives. If you're unsure of the benefits that chlorella can bring into your life, take a look at some of the incredible characteristics of chlorella and its ability to support overall health and vitality.
Nutrients
Because chlorella is packed with many different nutrients, it's become a nutritional superfood.
Chlorella contains protein, bringing more protein per ounce than beef or chicken!

Chlorella also contains all the essential amino acids that your body needs and cannot make on its own.

Chlorella is one of the only plant and natural form of active vitamin B12, the most absorbable type of B12. This is important for all, especially for people who live a vegan lifestyle.

Vitamin C is another one of the many vitamins found within chlorella. Vitamin C can help with mineral absorption and many other things. It is a necessary vitamin to include in your daily diet.

Your body needs iron to produce healthy red-blood cells. Fortunately, chlorella is an excellent source of iron and it can bring in a good percentage of your daily need.

Chlorella also contains antioxidants, omega-3 fatty acids, and other vitamins and minerals.

Chlorella also contains chlorella growth factor, or CGF, a nucleic peptide complex unique to chlorella that helps your body's natural cellular repair process.
Immune Support
A 2011 study found that chlorella may also help the immune system. The study examined the saliva of men who took chlorella for four weeks compared to men who didn't. The study found an increase of immunoglobulin (an antibody that supports the immune response) in the saliva of the men taking chlorella.
While there is still a lot of research to be done on understanding the true capabilities chlorella has for supporting the immune system, initial findings show positive results and should be explored further.
Supports Normal Cholesterol
There have been several studies that have examined the ability of chlorella to help support normal cholesterol levels. One preliminary open-label study suggests that chlorella may help support your normal cholesterol levels.
Supporting cholesterol levels is another way that chlorella helps support cardiovascular health. Including more chlorella into our diets can help with overall health!
These are just a few of the amazing vitamin benefits that chlorella can bring into your life. If you have questions about the other benefits chlorella can bring into your life, or you'd like to order some chlorella, let us know! We can't wait to help you take the next step on your healthy journey.
Author:Aiko Jin