Thank you for your patience and support. Our online store is now open! While we are working as quickly as we can, we ask for your understanding, as you may experience longer than normal delivery times. Our current transit time is 3-4 weeks. We are grateful to serve you once again. Questions? Call 1-800-829-2828 ext. 2455 or email [email protected]

Pet & Animal Health
Sun Chlorella's Rejuv-A-Wafers® are wagging tails!
Sun Chlorella created Rejuv-A-Wafers® to make chlorella's powerful nutrition available to pets and animals. We found that our chlorella is just as helpful to animals as it is for us, allowing them to thrive and stay as healthy as they can be. One of chlorella's most special properties is its high concentration of chlorophyll and nucleic acids. Like humans, animals also benefit from improved digestive health, stronger immune system, reduced inflammation and more.*
"
Rejuv-A-Wafer is Bailey's "miracle potion"... His coat is shinier and he seems so much happier.
I have spent so much on Bailey's hospitalization and vet visits since he was 3 months old. Now, I can save big giving the Rejuv-A-Wafers from Sun Chlorella. Thank you.
"

The Power of Chlorella Growth Factor


What gives chlorella it's power beyond digestive health and detoxification, is the Chlorella Growth Factor (CGF). CGF is what allows the chlorella plant to quadruple its cell numbers every 20-24 hours. This is possible due to the high concentration of nucleic acids, which provides support for the entire body at the cellular level. All cells need their own source of power, and if it is readily available, as in the form of a supplement, less energy is required to metabolize. When you're strong and healthy at the cellular level, you are healthier as a whole. You will see the difference in the vitality and energy level of your pet. *
Rejuv-A-Wafers® are great way to boost your pet's vitality*
Veterinarian recommended

Combines the nutrition of chlorella and eleuthero, an adaptogenic herb for mood stability (helps to manage stress and anxiety)

Helps to promote prolonged stamina and energy

Contains lecithin to help support skin health and a shiny coat

Contains Chlorella Growth Factor (CGF)

Improves digestive health and freshens breath

Rejuv-A-Wafers® are human-grade quality and is safe for a variety of animals including live-stock.

An easy to eat wafer that is smaller than a quarter

Why make a chlorella product for pets?

Sun Chlorella USA is proud to support the Gentle Barn and their ongoing mission to treat and care for animals who have been neglected or are in need of better, end-of-life care. The Gentle Barn, now with 4 locations across the U.S., provides critical rehabilitation services to a variety of animals including horses, cattle, goats, pigs and more. These rescued animals all take Sun Chlorella in powder form mixed into their water supply and the results have been amazing. This is another example why we are confident that Rejuv-A-Wafers® will make a great supplement for your loved one. Order your Rejuv-A-Wafers® today!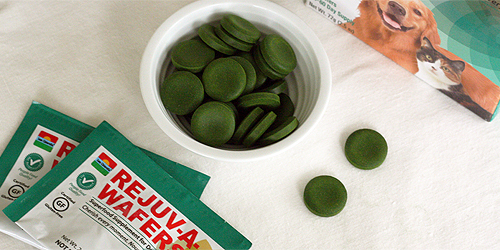 Rejuv-A-Wafers® Restore Vitality
Just one wafer a day...
Rejuv-A-Wafers® can help your pets stay as healthy as they can be. We recommend 1 wafer for animals up to 50lbs and give 2 wafers to animals 50lbs and over.