To our valued customers, in accordance with LA County Safer At Home order, Sun Chlorella USA will temporarily close down our business operations until at least 04/19/20. Please know that our online store is closed; however, Sun Chlorella products are still available at the following retailers: Thrive Market, Amazon, Vitamin Shoppe, IHerb, All-Star Health, Erewhon, Fresh Thyme, Mother's Market, Sprouts, and select Wholefoods. We understand this may be a frustrating time, so we will have a team to answer any questions you may have starting Monday, 03/23/20. You can reach them by calling 1-800-829-2828 ext 2455 or via email at [email protected] We hope for the health and safety of you all.
Chlorella Matcha "Nice" Cream
By Aiko Jin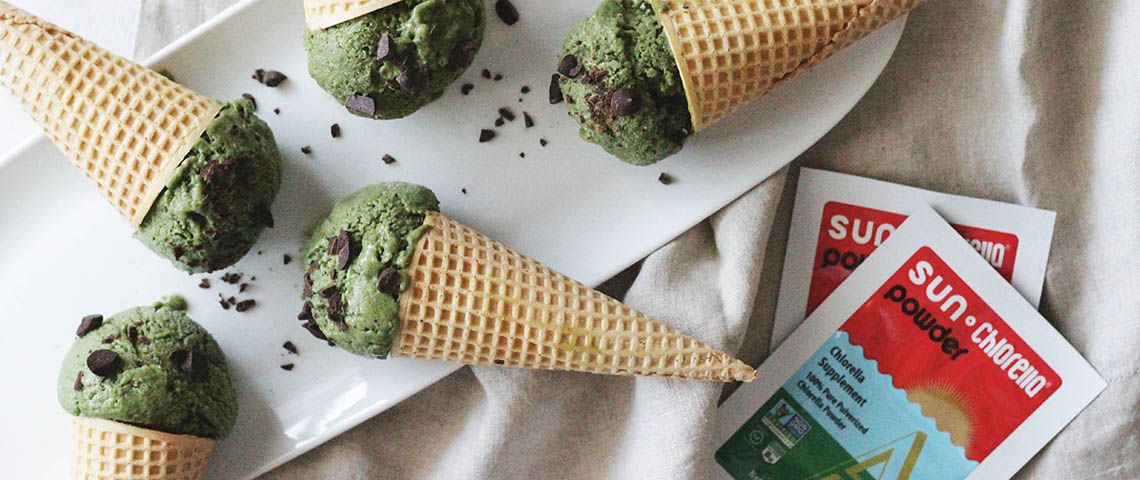 Summer is not summer without a little ice cream, so opt to make this healthier, vegan, non-dairy, and gluten-free Chlorella Matcha "Nice" Cream for all your summer adventures. 
Unfortunately, if you're vegan or lactose intolerant, enjoying this creamy treat may not be such a breeze. But look no further! Made with our Sun Chlorella® Powder, this Chlorella Matcha "Nice" Cream is vegan, dairy free, gluten free, and is sure to satisfy your sweet tooth! Not only that, but it contains vitamins (like B12), minerals, antioxidants, amino acids, good-fats, and chlorella growth factor to help your body thrive. Sounds like a sweet deal. Happy summer!  
Yield: 6-8 small scoops
Ingredients: 
• 4 large (or 5 medium) frozen bananas, sliced into discs  
• 1 frozen avocado, pitted and peeled 
• 3 tsp Matcha
• 1 packet Sun Chlorella® Powder
• 1 cup coconut milk (use full-fat for a creamier taste) 
• Optional: vegan chocolate chips
 Directions:  
1. In a high-speed blender, blend the coconut milk, matcha, and chlorella until fully incorporated. 
2. Add the sliced frozen bananas and frozen avocado and blend until creamy. 
3. Transfer to an airtight container and mix in 1/2 cup chocolate chips, if desired. 
4. Freeze for at least 2 hours.  
5. Thaw for 10 minutes before serving. Enjoy!
Author: Aiko Jin
WANT TO MAKE THIS DELICIOUS "NICE" CREAM?
Get your Sun Chlorella Powder